Brazilian Justice gives Rousseff ten days to reply the claims of "a coup"
Thursday, May 19th 2016 - 12:07 UTC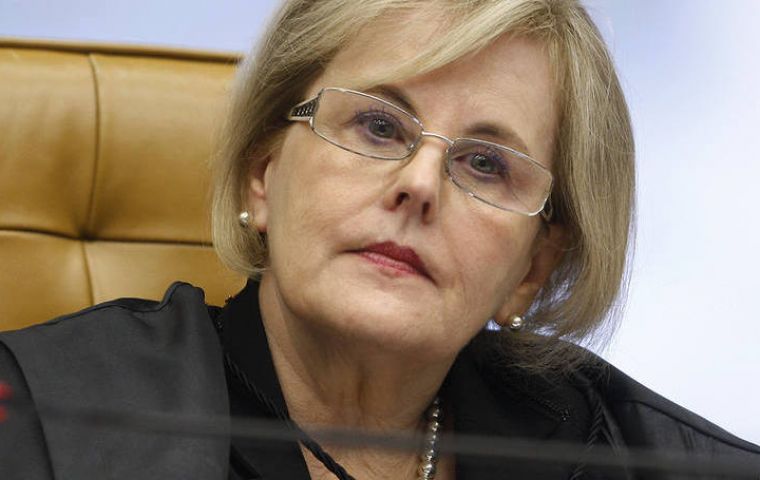 Brazils Supreme Tribunal (STF) Justice Rosa Weber has given suspended president Dilma Rousseff ten days to explain her repeated statements that the impeachment process started against her is a "coup". Rousseff is not obliged to respond. The STF decision follows a request from a group of lawmakers via the House's prosecution office.
The Justice pointed out that the decision does not mean a reprimand of the suspended president. "The judicial action which analyzes a criminal interpretation does not mean a value judgement on the contents debated, since it represents a typical providence of cognitive contention" said Justice Weber.
The claim was presented by lawmakers currently members of the wide ranging coalition that supports the government of interim president Michel Temer. They request that the suspended president confirms she is the victim of an alleged "coup", and if so who are responsible for such ilegallity.
According to the presentation, Rousseff with her statements has tarnished the standing of Brazil's House and this is "something of an unparallel seriousness, particularly since it does not take into consideration recent Brazilian history and the possibilities of an institutional rupture, which statements of that malicious impact can have on Brazilian public opinion".
In the demand document there is a collection of recent statements from Rousseff in different interivews describing the impeachment process as a "coup". Furthermore on the official May first speech on national television, the suspended president mentioned the word "coup" fifteen times, in a defense of the accusations brought against her.
Given her responsibilities as the highest official in Brazil, the president has the consitutional duty of promoting the best for the Brazilian people, and must not take advantage of her position to express doubtful, vague and imprecise statements suggesting the occurrence of a "coup". Rousseff statements, according to the lawmakers, "provoke an institutional crisis which aggravates the Brazilian situation and presents to the world scenario a picture of disrespect for the country's institutions.