Maduro admits to being mad as a hatter, but "crazy love" for Venezuela and the revolution
Saturday, May 21st 2016 - 08:26 UTC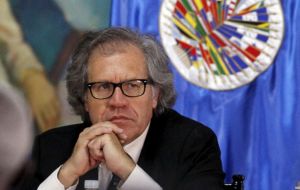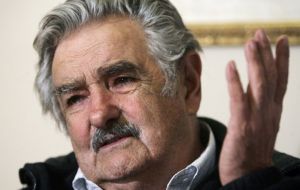 Venezuelan president Nicolás Maduro admitted he "was mad as a hatter", but "mad with love" for Venezuela, the Bolivarian revolution and for the deceased leader Hugo Chavez, in a clear reference to previous statements, without mentioning him, of Uruguayan ex president Jose Mujica.
"Yes I'm mad as mad hatter. But mad with love for Venezuela, for the Bolivarian revolution, for Chavez and his example. Yes, it is true, I'm mad as a hatter. They're right, mad with love, with passion to be loyal to Chavez", blasted the Venezuelan leader before a group of militants from the ruling party.
He added he "was madly wanting to say the things that must be said", underlining that "whom I called a traitor, traitor he is forever, damn it, a traitor forever"! in direct reference to the Organization of American States Secretary General, Luis Almagro from Uruguay.
On Wednesday in an open letter, Almagro warned Maduro he would become another "petty dictator", like so many in the region's past if he impedes the recall referendum launched by the opposition. The referendum could cut short Maduro's mandate who is facing a major financial, food and social upheaval.
The Venezuelan leader then called Almagro, "garbage and a traitor", claiming he was a CIA agent, and had always been, "I warned Mujica about him..."
Almagro was Mujica's foreign minister (2010/2015), and although they were very close to Maduro and Chavism, things changed when the former Uruguayan minister arrived in Washington.
He became very critical of Maduro and his regime, and has repeatedly clashed with him, while Mujica took distance from the OAS chair and kept close to Maduro.
However when the last barrage of insults, Mujica moved in and said that Maduro was "mad as a hatter" and in Venezuela "everybody has gone nuts".
The ex president underlined that Almagro was no traitor, the CIA agent accusation was nonsense, and insisted that without dialogue, there's no way out for the current political situation in Venezuela, "they have all gone nuts, and Maduro is mad as a mad hatter".
In effect, to the latest statement from the foreign ministers of Argentina, Chile and Uruguay must be added the efforts of several international leaders, among which former Socialist Spanish president Jose Luis Rodriguez Zapatero, who is working with the Union of South American Nations, Unasur.
However the opposition which has a clear majority in the Venezuelan National Assembly said that unless there are guarantees for a recall referendum, given they have collected ten times the necessary signatures for the initiative, "forget about dialogue". However Rodriguez Zapatero has been holding talks and has asked all sides as a first step "to be prudent".