Brexit and Bank of Japan easing described as major risks at G7 finance and central banks meeting
Monday, May 23rd 2016 - 14:29 UTC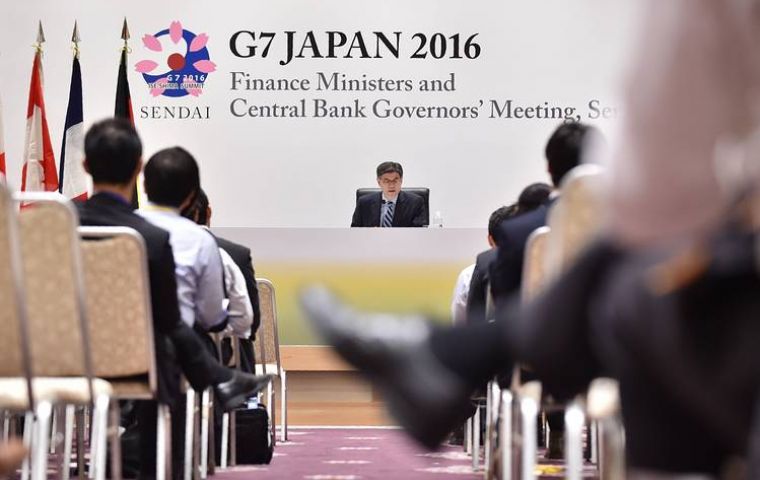 The G7 finance ministers and central bank governors concluded their 2-day meeting in Sendai, Japan on Sunday. The discussion of international event and banking risk has set the stage for issues to be discussed at the larger G7 leaders' summit starting on the 26th.
The two major issues that took center stage at the meeting were the prospect of a "Brexit", as well as further potential easing from the Bank of Japan. Both prospects pose significant risk to financial markets, as traders remain cautious going into the eventful month of June.
The meeting itself saw contentious positions between Japan and the US on the topic of further BOJ easing. Japanese Finance Minister Taro Aso said the current price action in the Yen was not considered "orderly" but US Treasury Secretary Jack Lew disagreed, suggesting the Yen market price must be accepted as is. BOJ easing has the potential to create significant directional volatility as the Federal Reserve has also signaled the possibility of a much-anticipated rate hike at its June meeting.
The second major issue considered at the meeting was the possibility of the UK exiting the EU. The prospect of so-called "Brexit" has created significant risk and uncertainty as banks and financial institutions prepare for a possible "leave" vote at the June 23rdreferendum.
Reports from the G7 meeting suggested officials shared a preference against a "leave" vote. However, little could be done to avert such a decision. The Fed has also cited Brexit as a significant concern as it mulls the trajectory of monetary policy in the months ahead. Attendees at the meeting in Sendai seemed unsure of potential contingency plans: speaking about Brexit possibilities, EU Commissioner Moscovici said there was no "Plan B".
Among upcoming event risk, G7 policymakers also debated the effectiveness of aggressive and unconventional monetary policy. After years of substantial easing, central bankers have become vocal about the need for fiscal policy to carry its weight in distributing and further promoting economic growth. Germany and the UK reportedly remained cautious on the topic as both countries maintain more conservative stances on the role of fiscal policy. The topic was even more pertinent for countries like Japan, which is currently debating a sales tax hike.