Paul McCartney ends his tour thanking his Argentine fans for a great week
Monday, May 23rd 2016 - 11:16 UTC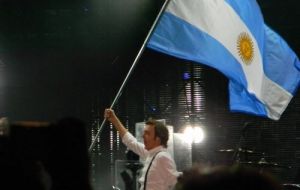 Paul McCartney at the end of his latest Argentine tour, in Cordoba and La Plata, thanked all his fans for a great week and for being so loyal. In a brief message, from Time 4 Fan, the former Beatle who has played in Argentina several times underlined that "we always like it in Argentina, because they like us", and because "it really helps us when we see that you like it: it inspires us to do better, Thanks Argentina".
However, the tour this time also had a surprise for Paul when he invited Leila, a 10-year girl on stage "What would you like me to do?" McCartney asked when Leila hopped up on stage next to him with a stuffed dog.
"Would you like me to sign your dog?"
"I want to play the bass with you," she said, shocking the singer. "I didn't see this coming," he said in shock. But he was still prepared, and provided the little girl with an instrument.
And so, with the bass down around her knees, Leila played and sang along with McCartney for a rousing rendition of "Get Back".
Paul's message follows:
Like we say at the end of every show, thank you!! Thanks for coming to our party and rocking with us. Thanks to the fans for being so loyal over all the years.
We've had a great week. Argentina has been great. We had been here before but we hadn't been to Cordoba before so that was a new experience. We always like it in Argentina because they like us!! One thing we all forgot was that it was going to be cold because when you are in Britain and think of Argentina you think of beaches and sunshine!!! Each country has a unique audience and the audiences here are great. There is a great tradition of music here and it helps us knowing they love it. I was surprised that the audiences were predominately young which is great because they come to the shows to party. I expected to see a few more people of my age. It's great though, as it means you are appealing to the next generation. It was amazing in the stadiums we played when they put the house lights up and you could see the people at the back going crazy too, it's really gratifying.
So, thanks for liking what we do because it really helps us when we see that you like it. Is inspires us on to do better. Thanks Argentina!! Paul McCartney