Violent protests when Chilean president presented state of the nation report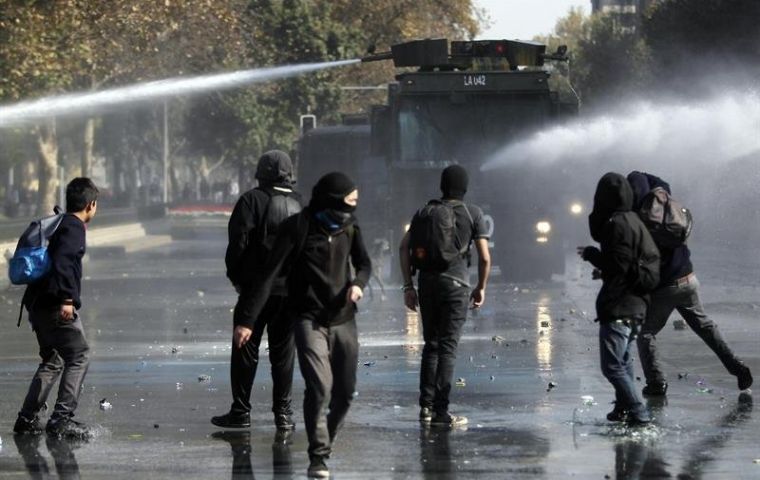 Violent protests broke out in Chile on Saturday as President Michelle Bachelet presented a state-of-the-nation report to Congress. One man died of asphyxiation after masked demonstrators burned a pharmacy and a supermarket in downtown Valparaiso, which is where Chile's congress meets.
Local TV broadcast images of smoke rising from different parts of the city. Government spokesman Marcelo Diaz condemned the man's death in comments to TVN television. The man was identified as 71-year-old Eduardo Lara, who worked as a guard for the municipality.
The protest began as a peaceful march but turned rough as some demonstrators threw rocks at police and gasoline bombs at buildings. Officers responded with tear gas and high-pressure blasts of water.
Historically, protests in the city to mark the date cause widespread material damages, but this time the fires got out of hand, consuming businesses and a municipal office. Some of the fires burned for hours after the demonstration.
Bachelet was elected in December 2013 to a second non-consecutive term promising to reduce income inequality and carry out other reforms. But her approval ratings have plummeted amid an economic downturn and a corruption scandal involving her family.
In her address Saturday, Bachelet emphasized achievements such as a reform guaranteeing free education. She called it a process from which "there is no turning back."
"If we don't make the changes now with everyone working together, the tensions and obstacles will grow and our opportunity to progress will be frustrated," she underlined.
"There are also initiatives that we must reprogram because we have to consider restrictions on resources or the need to form broad agreements," Bachelet said, without specifying what initiatives would be postponed.
Bachelet praised talks on a new constitution to replace one implemented by the country's former dictator Augusto Pinochet.
However she did not mention a reform that aims to strengthen organized labor. Last month a court rejected as unconstitutional key provisions in that bill, such as a stipulation that companies can only negotiate with legally designated unions during wage talks.
Weak economic growth, dragged by falling mining investment and a copper market rout, has also weighed in Chile, the world's top copper exporter.