Temer loses top minister to Petrobras scandal: recordings expose plans to obstruct investigation
Tuesday, May 24th 2016 - 05:34 UTC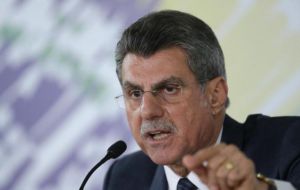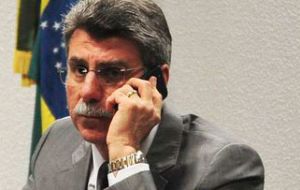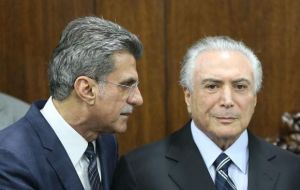 Brazil's Planning Minister Romero Juca said on Monday he will temporarily step down after a newspaper published recordings of him discussing plans to obstruct the country's biggest-ever corruption investigation, which includes him among its targets.
Juca's decision to take a leave from his post to defend himself is a huge blow for Interim President Michel Temer, who counted on the experienced senator to secure legislative support for key economic measures and reforms.
The new scandal also raises fears of further political instability in Brazil less than two weeks after President Dilma Rousseff was suspended to stand trial in the Senate for allegedly breaking fiscal laws.
"Starting from tomorrow, I will step aside," Juca told a huddle of reporters in the capital Brasilia, following a day of feverish speculation about his political future.
In recorded comments made before Rousseff was suspended and published by newspaper Folha de S. Paulo on Monday, Juca told an ally he agreed on the need for a "national pact" to circumscribe the probe known as "Operation Car Wash."
Asked for help by a friend and former senator under investigation in the probe, Jucá replied, "The government has to be changed in order to stop this bleeding."
Juca and other ministers in Temer's new government are under investigation for their participation in a massive graft scheme at state-run oil company Petrobras.
At a press conference earlier on Monday, Juca voraciously defended himself. He said what was published was taken out of context and denied he was trying to interfere with the investigation into Petrobras.
A trained economist with over 20 years in the Senate, Juca was a key member of Temer's new economic team that is racing to approve a new fiscal target this week to avoid a government shutdown in June.
Juca was seen as a crucial negotiator to approve a series of economic measures in Congress aimed at rescuing investors' confidence in the once-booming Brazilian economy.