Argentine government agrees a 400% cap on natural gas hikes for Patagonia provinces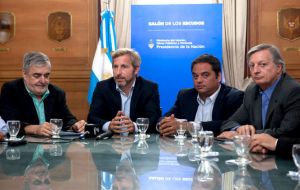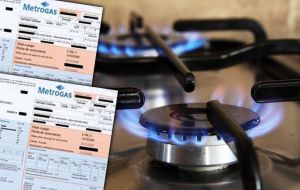 The Argentine government has announced a cap on hikes to natural gas prices for the country's southernmost provinces, after pushback from governors, the Judiciary and even local demonstrators prompted Energy Minister Juan Jose Aranguren to reconsider the scope of his most recent reforms.
According to provincial leaders, hikes were in some cases, equating to rises of 1,800%, putting families at risk due to below-zero temperatures and damaging businesses' profitability.
"We decided that no Patagonian resident will pay hikes above 400%" Interior Minister Rogelio Frigerio said. "Small- and medium-sized companies will also pay only 50% of the hike and the difference will be financed over the next two summers," Frigerio added.
Led by Patagonia province of Chubut Governor Mario Das Neves, the top authorities of each Patagonian province held a three-hour meeting with Aranguren and Frigerio, arguing that for families earning 8,000 or 10,000 pesos per month, natural gas bills rising to 3,000 pesos were too strong a hit for the harsh winter ahead. The US dollar was trading at 14 Argentine Pesos on Tuesday.
Das Neves was joined by La Pampa's Carlos Verna, Neuquén's Omar Gutiérrez, Río Negro's Alberto Weretilneck and Tierra del Fuego's Rosana Bertone, as well as some other governors outside the Patagonia who had individual demands too.
Santa Cruz's Alicia Kirchner, arguably the governor with the most tense relationship with the federal administration, was notably absent, represented by her second-in-command Pablo González.
"Not every Patagonian has the salaries of an oil industry worker. They have a very tough job and earn more than 30,000 pesos, but the rest of the salaries are comparable to the national average, so these hikes are very painful. I think they were done in an improvised fashion, by officers who haven't stepped on the territory where the decisions have an impact. They don't know the specific needs of the Patagonian people," Das Neves told journalists after the meeting.
The governor, however, did praise Aranguren and Frigerio for showing flexibility and a will to debate changes.
Frigerio said residents who already paid hikes above 400% will get a credit note to discount the difference from the coming bills, while those who haven't yet paid will be sent new bills with reduced charges.
The caps for hikes in the South follow similar benefits announced for the North of Argentina, which also faces specific inconveniencies during winter.