Macri's administration admits the Catholic church criticism of Argentina's 'labor market fragility'
Wednesday, May 25th 2016 - 06:50 UTC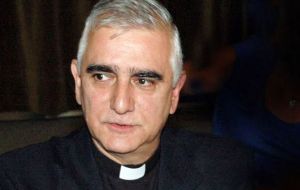 Leaders from Argentina's ruling "Let's Change" (Cambiemos) administration acknowledged on Tuesday that the country is "going through the worst time" yet since president Mauricio Macri took office but also underlined all the measures that have been taken over the last few months to overcome the situation.
The statement from cabinet chief Marcos Peña came in reply of a strongly-worded document from the Catholic Church addressing the country's precarious job situation.
"We're aware of that, but we're adopting all possible measures to avoid the situation from getting worse," the Cabinet Chief said, adding the Church document did not take into account "all the measures taken (by the Macri administration) over the last few months."
On Sunday, at the end of a four-day meeting attended by Argentina's top union bosses, leaders of the Argentine Synod (CEA) warned over rising unemployment, pointing to increasing hardship for millions of citizens.
"We're worried about the fragility of the labor market and the situation of many workers who are in precarious jobs, who do not have access to social rights or state protection," the Catholic Church's social pastoral commission said in a document.
Monsignor Jorge Lozano, the head of the social pastoral commission, said Argentina was in "complex times" for the most vulnerable sectors of society because of the high number of people working under the table.
"Between 30 and 40% of all workers are in this situation, which means they have no labor rights, no healthcare benefits — this is a complex social panorama," Lozano told a local radio station. "We perceive deteriorating conditions," Lozano added.
La Rioja Bishop Marcelo Colombo was more open in his criticism of the macroeconomic policies adopted by the Let's Change government.
"The latest economic measures are hitting poor households," said Colombo, who called on the government to show "sensitivity" and take "gradual measures" instead of adopting economic shock policies.
Statements from the country's bishops were made as the Argentine Catholic University (UCA) published a report on the job market, saying that "more than 10 million people face labor problems" in Argentina.
Between 2010 and 2015, "total employment expanded eight percent but formal jobs only increased by three percent," said the document published by UCA's Social Debt Observatory.
"The persistence of a large informal sector, composed by owners and employees of small companies, household or family workers, represents one of the biggest problems in the job market given its reduced level of productivity and pay," the report said.
According to the report, by the end of 2015 this kind of precarious working relations represented 53.9% of the total Argentine workforce or 9.4 million people.