Venezuela next Mercosur chair, but Uruguay will continue leading negotiations with EU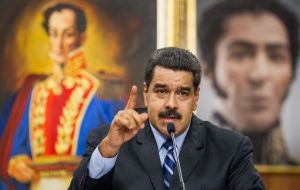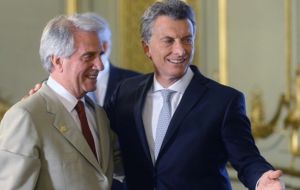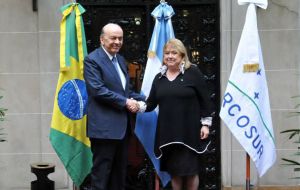 Venezuela, in the midst of a most serious domestic political and economic situation, and with less foreign allies is scheduled to take the chair of Mercosur as of next June for the following six months. However it has been agreed that Uruguay will continue leading Mercosur negotiations with the European Union for a much delayed wide ranging cooperation and trade agreement.
This is because Venezuela is not part of the EU discussions, since it was the last country to become full member of Mercosur and trade negotiations were started in 1999 and re launched in 2010. Furthermore Uruguay has been steering negotiations and the recent exchange of proposals, in number of goods and services, and time, to cut tariffs.
However the current political situation in Venezuela has become a great challenge for the other Mercosur full members and associates, which are divided on to whether or not to apply the so called 'democratic clause' to the Chavista regime. President Nicolas Maduro is accused of impeding a recall referendum which has the support of two thirds of Venezuelans, according to the latest opinion polls.
Last week Argentina, Brazil and Uruguay called on all sides in Venezuela, government, opposition, institutions to keep to rules of the game and urgently find a peaceful mechanism to reach a solution that contemplates democratic values, respect for human rights and a return to an effective political dialogue.
Likewise on Monday, Argentina and Brazil, during the meeting of foreign ministers Susana Malcorra and Jose Serra, said they were willing to work together to help find a solution to Venezuela's political crisis.
Brazil's foreign minister Serra said in Buenos Aires that Venezuela is facing a critical situation, and "we want to find a path toward reconciliation."
But Venezuela's Maduro is not only facing domestic challenges and a melting economy, but has lost close friends in Mercosur, Brazil and Argentina are now ruled by business friendly governments, interim Michel Temer, and elected Mauricio Macri. President Dilma Rousseff is currently suspended from office for 180 days while the Senate decides on her impeachment. In Argentina Cristina Fernández is back in Santa Cruz province, preparing for a long list of court summons.