Paraguay requests meeting of Mercosur foreign ministers to address Venezuela situation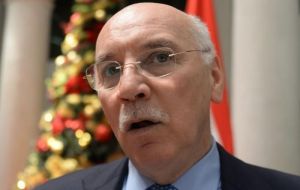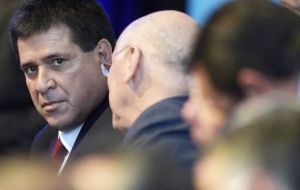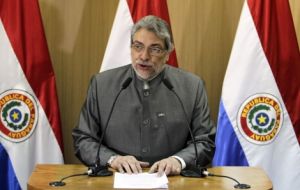 Paraguay formally requested on Thursday a meeting of Mercosur foreign ministers to address the situation in Venezuela which is undergoing a critical political, social and economic scenario. The request was presented to Uruguay which currently holds the chair of the trade block made up of Argentina, Brazil, Paraguay, Uruguay and Venezuela.
Paraguayan foreign minister Eladio Loizaga said he had received precise instructions from president Horacio Cartes to ask for the Mercosur foreign ministers meeting.
Until last week the Paraguayan government had expressed deep concern about the domestic situation in Venezuela, but minister Loizaga never crossed the line saying that the country's position was: "no meddling in the internal affairs of another State".
Organizations such as Washington based Human Rights Watch has repeatedly requested the implementation of the 'democratic clause' against Venezuela, and lately the Organization of American States has called for an immediate political debate. The Secretary General Luis Almagro has said he is prepared to consider the option of the 'democratic clause', which could mean the suspension of Venezuela from Mercosur, until the country returns to institutional legitimate normality.
If the 'democratic clause' is finally supported by OAS and put on the table as a new negotiation chip, it would mean a sweet revenge for Paraguay, which was suspended from Mercosur in June 2012 following congressional impeachment and the removal of then president Fernando Lugo.
The Lugo incident became the excuse for Mercosur to finally incorporate Venezuela as a full members of the group, (on the waiting list since 2006), since the Paraguayan Senate openly rejected the Venezuela of then president Hugo Chavez, which it considered undemocratic for jailing opponents, banning media and abuse of human rights.
Mercosur decisions are on consensus, and the Paraguayan objection was keeping Venezuela out in the cold.
At the time, ex president Jose Mujica from Uruguay said that at times "political reasons must prevail over constitutional reasons", in an attempt to justify the suspension of Paraguay, following the implementation of the democratic clause for supposedly "illegally" removing Lugo. However, Mujica's words actually confirmed that the impeachment process was done absolutely according to the book, following the Paraguayan constitution.