Operation Condor condemns Argentine ex dictator and 14 top military officers
Saturday, May 28th 2016 - 08:04 UTC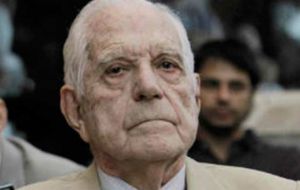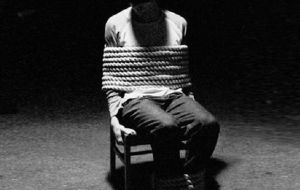 Former Argentine dictator Reynaldo Bignone and 14 other ex-military officials were found guilty by an Argentine court on Friday of conspiring to kidnap and assassinate leftist dissidents as part of the Operation Condor program. Bignone, 88, the highest ranking figure on trial, was sentenced to 20 years in jail. Fourteen of the remaining 16 defendants got eight to 25 years behind bars. Two were found not guilty.
Operation Condor was coordinated by dictatorships in Argentina, Chile, Uruguay, Paraguay, Brazil and Bolivia to hunt down and kill exiled opponents in the 1970s and '80s.
Some individual crimes committed under Operation Condor had already been the subject of previous trials. Friday's verdict was the first to focus on participation in the plan itself. Friday's court decision cited the disappearance of 105 people during Argentina's 1976-1983 dictatorship.
"It determines not only that state terrorism in Argentina was an criminal conspiracy but that it was coordinated with other dictatorships," said Luz Palmas Zaldua, a lawyer with the Centre for Legal and Social Studies (Cels), which represented many of the plaintiffs in the case.
"They got together to maximize efforts to persecute political opponents of each of the dictatorships, and to 'disappear' or eliminate those who were considered subversive," she told reporters after the ruling was read out in court.
Operation Condor, named after the broad-winged birds that inhabit the cordillera mountain range on the Chile-Argentine border, was coordinated from a joint information centre at the headquarters of Chile's notorious secret police in Santiago.
In a state visit to Argentina in March, President Barack Obama said the United States was too slow to condemn atrocities by the dictatorship, but he stopped short of apologizing for Washington's early support for the military Juntas.