World health experts call for Rio Olympics to be postponed or moved given Zika spread fears
Sunday, May 29th 2016 - 14:28 UTC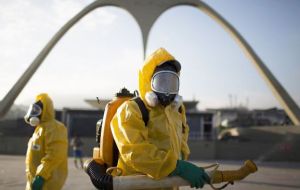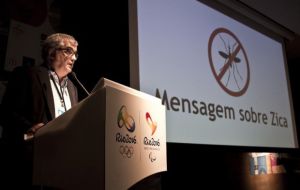 More than 100 health experts have called for the Rio Olympic Games to be postponed or moved because of fears that the event could speed up the spread of the Zika virus around the world, according to a public letter published online.
"The Brazilian strain of Zika virus harms health in ways that science has not observed before," the letter said.
"An unnecessary risk is posed when 500,000 foreign tourists from all countries attend the Games, potentially acquire that strain, and return home to places where it can become endemic."
The letter was signed by 150 people identified as health experts and sent to the head of the World Health Organization. It was published at http://rioolympicslater.org/.
The letter called on the WHO to convene an independent group to advise it and the International Olympic Committee with a priority for science and public health, as well as the spirit of sport.
"Given the public health and ethical consequences, not doing so is irresponsible," it said. IOC President Thomas Bach said in February that the spread of the mosquito-borne virus across South America would not adversely affect the Games due to take place in Rio de Janeiro in August.
The US Centers for Disease Control and Prevention concluded after months of research that infection with Zika in pregnant women is a cause of the birth defect microcephaly, where infants are born with abnormally small heads, and other severe brain abnormalities in babies.