Australia enforces low sulfur fuel regulations: Carnival cruise fined
Monday, May 30th 2016 - 07:03 UTC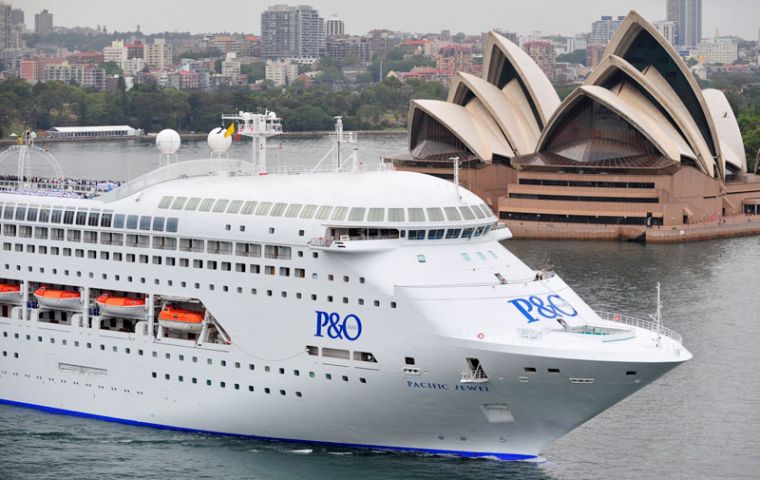 Australia's Environment Protection Authority (EPA) has fined Carnival PLC US$15,000 after one of its P&O Cruises ships, the Pacific Jewel, breached new low sulfur fuel regulations in Sydney Harbor. A fuel sample taken by the ship's crew and provided to EPA officers while the ship was berthed at the White Bay Cruise Terminal on February 26, 2016 had a sulfur level of 0.293%, nearly three times the 0.1% sulfur limit.
The fine is the first to be issued under the new regulations which came into force from October 1, 2015. The regulations require cruise ships berthed in Sydney Harbor to use low sulfur fuel within one hour of berthing until one hour before departure.
EPA Acting Director Metropolitan Greg Sheehy said that the EPA had also issued an official caution to the ship's master.
"The ship's crew had started changing over from using high sulfur fuel shortly after the ship had berthed at White Bay, but the sample showed that the fuel being used in the ship's engine during the EPA's inspection did not meet the low sulfur fuel requirements," Sheehy said.
Sheehy said that Carnival PLC had advised the EPA that its P&O Cruises Australia ships will start their changeover from high sulfur fuel earlier to address the problem.
"The EPA has taken a further three samples from the Pacific Jewel since February 26 and all have complied," he said.
Since October 1, 2015 the EPA has inspected more than 140 cruise ships, taken 78 fuel samples from engine fuel lines, inspected log books and changeover records and also observed stack emissions.
"Figures before the regulation came into force showed that cruise ships produce around 40% of total fine particle emissions from shipping in Sydney Harbor. Therefore it's vital that cruise ship operators adhere to the new regulation to protect Sydney's air quality and the health of the community," Sheehy said.
"The EPA is running an extensive compliance campaign to ensure cruise ships are complying and the inspections will continue," he said.
The EPA has issued three official cautions to cruise ship operators, including one to Carnival PLC for a noncompliance by one of its other P&O Cruises ships.
"We are also investigating the results of samples from some other ships which may require regulatory action," Sheehy said.
Penalty Notices are one of a number of tools the EPA can use to achieve environmental compliance, including formal warnings, official cautions, license conditions, notices and directions, mandatory audits, enforceable undertakings, legally binding pollution reduction programs and prosecutions