"Argentina needs its armed forces for peace; they have been ignored for years", says Macri on Army Day
Tuesday, May 31st 2016 - 06:51 UTC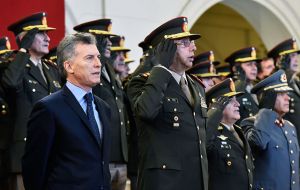 Argentine President Mauricio Macri said Monday that Argentina needs armed forces adapted to the 21st century, ready to carry out peace missions and come to the rescue in times of disaster, after "years" of being ignored by the government. He made the statement at an Army Day event.
"We have begun a new stage in the life of our nation, which urges us to leave behind old conflicts and divisions...This Argentina also needs its armed forces," the president said during the Army Day commemoration at a military school in Buenos Aires province that he attended together with the Joint Chiefs of Staff.
For that reason, it is essential that the armed forces "adapt to the needs and demands of the 21st century," Macri said, "backing our foreign policy, taking part in peace missions" and dealing with problems caused by "climate change" such as natural disasters.
"The Argentine people need their armed forces to stand ready," he said.
However, the president said, "the armed forces have been ignored and abandoned for years, and this has created budget, equipment and infrastructure problems."
He also spoke about disadvantages the military has suffered in terms of pay and retirement benefits, and promised to work so that members of the armed forces get "the same pay increases as other government workers" receive in compensation for rising inflation.
Finally, Macri used the occasion to congratulate members of the military expedition that recently carried out the first Argentine mission to the North Pole, and said they were an example of how the "gap can and must be closed" between what Argentines are and what they can become. "Argentines are here to do more, and we can do more".