Brazil's acting president 7-year old son already has an estate of US$ 570.000
Tuesday, May 31st 2016 - 07:07 UTC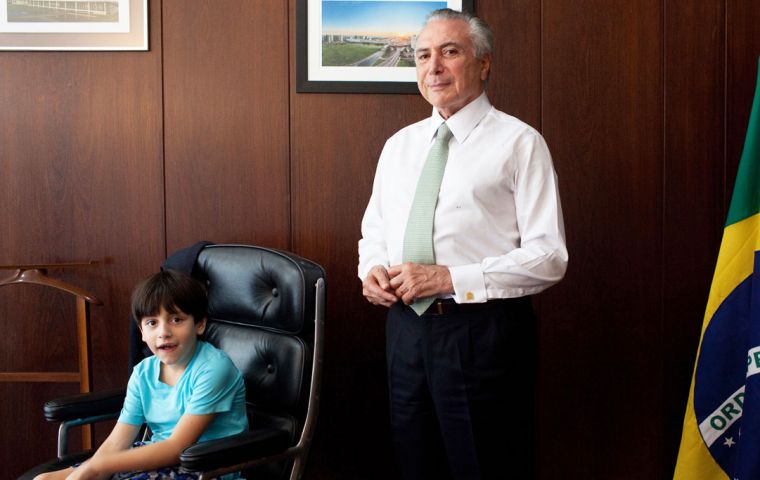 Little Michel, the 7-year-old son of Brazil's Acting President Michel Temer, has already proven he is far more mature than his years might suggest. A few weeks ago, he was responsible for choosing the new government's logo – when he saw it, he said "pretty." Now, we know that the wunderkind has a few investments of his own.
Brazilian newspaper Estado de Sao Paulo revealed that Little Michel owns two offices in a luxury building which also houses daddy Big Michel's political office. The estate is estimated to be worth US$570,000. Each property is 196 square-meters and is located in a rich neighborhood of São Paulo. Not bad for a 7-year-old.
Michel Temer's press secretaries stress that by no means is this a strategy to hide his assets (in Brazil, politicians who run from office are obligated by the law to disclose their patrimony). It was only a way to anticipate Little Michel's inheritance – something he had done in the past with his other children. But the President's team conveniently failed to mention which other estate it was referring to, or when those transfer operations took place.
According to the newspaper, Temer's estate more than doubled between 2006, when he last ran for Congress, and 2014, his second term serving as Dilma Rousseff's running mate for president. Ten years ago, he declared a US$650,000 patrimony to Brazil's electoral justice. In 2014, his estate had more than doubled – adding up to US$2.14 million. That is, without including precocious Little Michel's properties.