Maduro to Almagro: "stick up the Democratic Charter wherever it fits"
Wednesday, June 1st 2016 - 06:06 UTC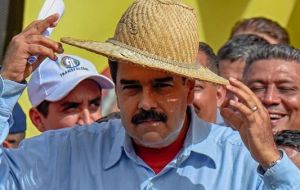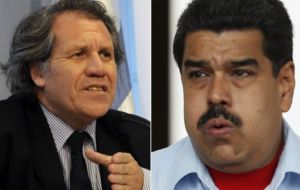 Venezuelan President Nicolas Maduro said on Tuesday that Organization of American States chief Luis Almagro had called for foreign "intervention" in his country by invoking the body's Democratic Charter in response to the political crisis in Venezuela.
"Today, Mr. Almagro presented a document asking for intervention in Venezuela from abroad and a pipe dream called the Democratic Charter is being applied to us to open the doors to a 'gringo' intervention in Venezuela," Maduro told supporters at the presidential palace.
"They can do as follows with the Democratic Charter, put it in a really thin little tube and let Mr. Almagro make better use of it, sticking his Democratic Charter wherever it fits. Venezuela will be respected and nobody's going to apply any charter of any kind – or whatever they want to call it – to Venezuela," he said.
Maduro accused the secretary-general of "usurping his functions" by intending to transform himself "into a supranational power above the OAS Charter and above (Venezuela's) sacred Constitution."
He said that his domestic and international enemies "have gone beyond the limit" and believe that this move will intimidate the Venezuelan people.
"I call for national rebellion in the face of international threats," he said.
Alamagro on Tuesday activated the Democratic Charter in the case of Venezuela, an unprecedented step that could lead to the country's suspension from the OAS, provided that two-thirds of the OAS member states feel that the Caracas government has undermined democracy there.
Backed by a 132-page report Almagro resorted to Article 20 of the Charter to call for a Permanent Council meeting of the member states between June 10-20 to discuss whether the Venezuelan government has subverted democracy there.
The report sets forth how the alteration in the constitutional order has occurred and how it "seriously (affects) the democratic order" in Venezuela.