Night of fire and violence in Ushuaia as protestors are evicted from Government House grounds
Wednesday, June 1st 2016 - 08:51 UTC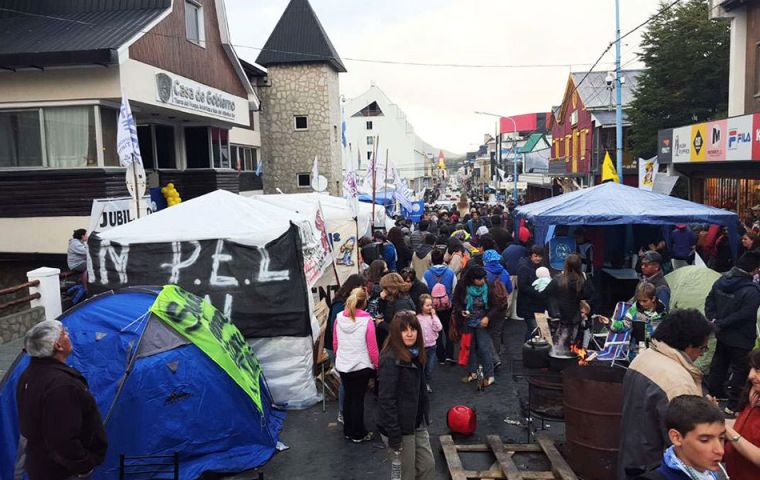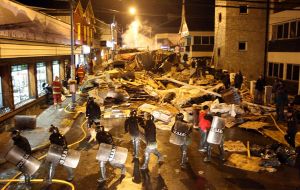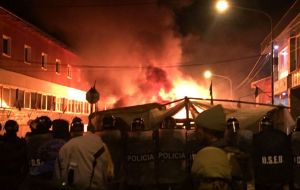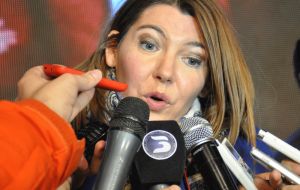 Ushuaia suffered a night of violence, tear and pepper gas and fire when riot police dislodged an 80-day protest camp and tents of striking teachers and government employees next to Tierra del Fuego Government House. Seven people were reported injured including a policeman and a fireman, when tents were set on fire, and unions claimed it was a savage and brutal display of government repression
The report says that five strikers were assisted in hospital because of the tear and pepper gas, while the policeman was injured in the head and the fireman suffered a foot injury when the stepped on planks with nails.
The strikers had been camping for almost three months outside Government House, limiting access, to protest an amendment to the pensions' scheme proposed by Governor Rosana Bertone and approved by the provincial Legislative assembly last January.
"The clearing of the camp was done with utmost professionalism and when most tents were empty", said Ezequiel Murray, head of Tierra del Fuego Security Department.
This was so because "80% of occupants were at a round of talks, discussing different issues relative to the strike", added the officer.
"When riot police and dogs moved in it was only natural that there were some scuffles, because they refused to abandon the camp. Some suffered from pepper spray, and some light injuries. But one of my men had eight stitches in the head and the fireman stepped on a nail, I don't want to think the wood planks with nails were intentional".
As to the tents on fire, Murray said that his men have the incident on security cameras, and it was the protestors, forced to leave that set them on fire, and "we are going to file a complaint in a criminal court".
However the teachers' union Sutef, announced a full day strike in all Tierra del Fuego schools, to protest the violent police repression.
"At two in the morning and despite the presence of hundreds of our comrades, the riot police marched with extreme violence against the workers, as under the dictatorship. The policemen set the tents on fire and ignored for twenty minutes a woman-worker who suffered an epilepsy fit and was lying on the floor", added the union.
The dispute over the pensions amendment basically puts an end to a retirement scheme which allowed government staff and personnel to retire at full salary with 50 years, an uncontainable erosion to the province's finances. Furthermore the central government warned there was a limit to financial support given the provincial budget deficit.
Although Tierra del Fuego is ruled by the opposition Victory Front, which theoretically responds to Cristina Fernandez, the Interior minister from president Macri administration visited governor Rosana Bertone in a display of support to her position contrary to the strikers.