Monsanto and Argentina closer to an agreement on exports inspections dispute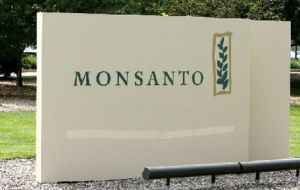 Monsanto Co., eager to get royalties from growers in Argentina on genetically modified soybeans, said on Wednesday it was still trying to resolve a dispute with the government over inspections, while an agricultural ministry source said a deal may be reached in the coming days.
Monsanto and the Argentine government have been at loggerheads over the company's request that Argentine exporters inspect soybean shipments to ensure growers pay royalties. The country's government has decreed it must approve such inspections.
Monsanto, the world's largest seed company, then said it would suspend future soybean technologies in Argentina, a move that could limit output of the country's main cash crop.
"Monsanto and industry stakeholders continue to engage in positive dialogue with the government of Argentina," the company said in a statement from Buenos Aires, adding that the government should have "a predictable business environment that recognizes intellectual property protection."
A source at the Agricultural Ministry said there would likely be advances at the talks soon.
"Though there is an advanced dialogue and good will from both sides, we can't get ahead of ourselves. I think in the coming days there will be something concrete," the source said.
Argentina, the world's No. 1 exporter of soy-meal livestock feed, relies heavily on Monsanto's genetic technology to produce soybeans.
During the negotiations the government has contended Monsanto has failed to submit a proposal for an inspection system. The company said it was waiting for the government to outline its inspection requirements.
Soy farming has spread rapidly across Argentina's Pampas agricultural belt over the last 20 years, thanks largely to the country's embrace of genetically modified seeds. The technology makes soy plants resistant to glyphosate herbicide, which kills most weeds that grow in Argentina.
Argentine growers do not yet have the company's new "Xtend" technology, aimed at increasing soy yields and controlling glyphosate-resistant broad leaf weeds.