Temer's home in Sao Paulo is fenced off to keep protestors away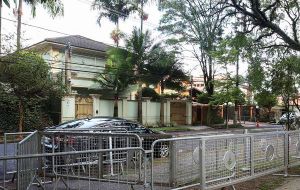 Brazil's acting president, Michel Temer, put a fence around his home in Sao Paulo to prevent protesters gathered in the vicinity from harassing his family. The measure, authorities said, was taken to "strengthen" the security surrounding the family of the interim president after on May 22 riot police dispersed a demonstration before his house.
Vehicle traffic along the street where Temer's residence stands in the well-to-do Alto do Pinheiros neighborhood was also restricted and part of the park in front of his house was fenced off to prevent demonstrators from camping there.
Police officers and members of the presidential security detachment are posted in front of the home, where Temer usually spends the weekends and his younger son and his wife live.
The decision to strengthen Temer's security was made by Gen. Sergio Etchegoyen and Sao Paulo state Gov. Geraldo Alckmin in keeping with a law that authorizes such measures if needed to protect a president or his relatives.
Temer last May 12 assumed the presidency for a 180-day period during which President Dilma Rousseff, recently suspended from her post, will be placed on trial in Congress, a move that could result in her ouster if she is found guilty.
Ten days later, a group of demonstrators camped out before Temer's residence, painted anti-government messages on neighboring homes and even set fire to trash cans to prevent the passage of vehicles and faced off against the police, who used tear gas to disperse them.