Argentina and Monsanto reach preliminary agreement on seeds and soy controls
Saturday, June 4th 2016 - 10:54 UTC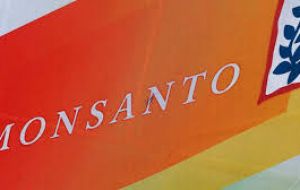 After weeks of crossed accusations, Argentina reached a preliminary deal with Monsanto, reportedly agreeing to cancel its controls on soybean shipments. Under the accord the Argentine government will be the one to carry out the inspections, as part of a proper framework for agriculture firms to be paid for royalties.
The agreement was sealed after two days of meetings in Buenos Aires between representatives from the seed giant and government officials, headed by Economic Manager Gustavo Lopetegui. Monsanto then asked for some time to debate the proposal and finally accepted. Nevertheless, the deal won't be officially announced until the firm actually lifts its controls.
The dispute blew up after Monsanto started asking Argentine exporters to inspect soybean shipments to ensure growers had paid royalties for using the company's products. The company offers farmers a deal to pay the royalties when purchasing the seed, an option chosen by 70% of them, or when handing over the grain to be exported.
Monsanto has pressured shipping companies to notify it when crops grown with its technology are slated for export without documentation showing royalties had been paid. Such inspections have been described as illegal by farmers, who have questioned the US firm for overstepping boundaries.
Such controls will now be carried out by the Argentina's National Seeds Institute (Inase), the official agency that carries out all seed controls. Inase has had a very limited budget over the past 10 years and its 16-member board was never appointed. The goal is to increase the budget and to designate the board members. Then Inase can be tasked with the verification of royalties payments and not Monsanto.
At the same time, the government will speed up a bill to update the current Seed Law, approved in 1973 when agricultural biotechnology didn't exist. The objective is for royalties to be paid only when purchasing the seed and not after.
If farmers choose to keep part of the harvest for themselves to use in the future — a common methodology authorized by law but not regulated — they will reportedly be limited by the bill on the amount of grain they can hold and for the amount of time the grain can be stored. That change follows criticism by Monsanto against such practices.
The need to resolve the long standing conflict quickly was also influenced by a letter sent to Production Minister Francisco Cabrera by the US Chamber of Commerce International Affairs head Myron Brilliant, who said that if the issue remained unresolved it could have "negative effects" in the relationship between both countries..