Argentina's main opposition political force names a shadow cabinet
Saturday, June 4th 2016 - 08:43 UTC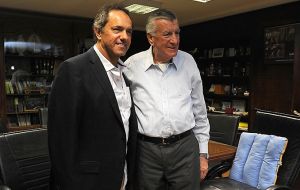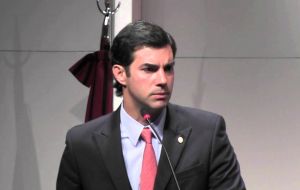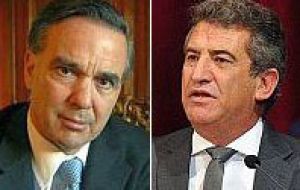 Argentina's largest political movement, almost hegemonic, but currently in the opposition under the name of Justicialista Party (PJ), announced this week a shadow Cabinet, saying they will work hard to return to power after losing last year's election to President Mauricio Macri.
According to a document disclosed shortly after the meeting in downtown Buenos Aires, the Peronist version of the shadow Cabinet — led by Chairman José Luis Gioja and Vice-President Daniel Scioli — will have 22 secretariats "dealing" with different government areas.
Former Entre Ríos governor Sergio Urribarri was appointed secretary-general, while the Political Secretariat (a kind of Cabinet chief's office) will be led by Senator Miguel Ángel Pichetto.
Salta Governor Juan Manuel Urtubey, a pro-dialogue Peronist leader, was named secretary of International Affairs, while Eduardo Fellner (a former Jujuy governor) was appointed as head of the Provinces' Coordination office. Buenos Aires province lawmaker Fernando "Chino" Navarro will serve as the official link between the PJ and social movements.
Also serving as PJ's vice-presidents are Catamarca Governor Lucía Corpacci, CGT boss Antonio Caló, Malvinas Argentinas Mayor Leonardo Nardini and Tierra del Fuego provincial leader Rosana Bertone.
Some of the key secretariats were those dealing with economic affairs since the Peronist party has adopted a very critical tone of the austerity measures adopted by the Let's Change (Cambiemos) administration since taking office in December.
La Pampa leader Carlos Vena was named PJ's Economic Affairs secretary, while Antonio Arce (Formosa) will be in charge of Finances. Luis Beder Herrera, a former La Rioja governor, will lead the Regional Economies office.
Andrés Rodríguez, the head of the UPCN state workers' union that negotiated the downsizing of public sector employees with the government, will deal with trade union affairs.
"We're part of a political force that in this stage is opening up to society and taking the side of those most in need," Scioli said during a party meeting held at the PJ's BA City headquarters.
"Our goal is to pre -sent alternatives, not to criticize (the government) but to alert (citizens)." Urribarri, in turn, said "all sectors" should unite forces "to put a brake on the government's excesses, because the outlook looks bad."