Ex Total top engineer named Argentina's YPF CEO
Tuesday, June 7th 2016 - 09:04 UTC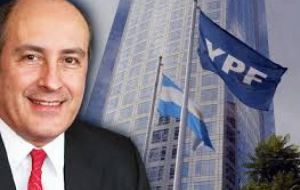 Argentina's state oil company YPF said on Monday it has named Ricardo Darre chief executive officer, as the company makes leadership changes under the new pro-business government.
Darre, an engineer, previously worked for French oil company Total in the United States. He will take up his post on July 1.
"With the hiring of Ricardo Darré we reaffirm our commitment to the absolutely professional management of YPF that will strengthen the development of our production and our strategic positioning in the market," the country's largest company said in a statement.
YPF controls the Vaca Muerta formation, which may contain the world's largest shale reserves.
"The company has good geological areas and a solid industrial base that is highly competitive in all production stages, from the well to our clients," Darre said in the statement. "This is essential to maximize our investment and the key role the company plays in the search to self-supply the country's energy."
Businessman Miguel Gutierrez was named as president of YPF in April, during the most recent shareholder assembly.