Macri resumes activities on Monday: "I am here, I am fine"
Tuesday, June 7th 2016 - 08:59 UTC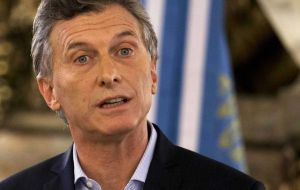 Argentine president Mauricio Macri resumed on Monday his official activities after an arrhythmia condition that led him to be hospitalized Friday night. Macri appeared at a morning rally in a southern locality of Buenos Aries to announce a financial aid for neighborhood clubs, highly affected by the latest utility rate hikes, and thanked all the messages he received.
"I am here, I am fine." "I thank the Argentine people who filled me with messages since Friday afternoon. I am here, I am fine to keep on working together for this Argentina we dream about," the head of state stated, adding "this is a wonderful way to start the week."
Later in the day Macri held meetings with cabinet ministers at Government House with Science and Technology Minister Lino Barañao, Health Minister Jorge Lemus, and Energy Minister Juan José Aranguren.
His foreign affairs agenda included meeting with visiting Montenegro's Prime Minister Milo Dukanovic.
The president spent the weekend at his farm house "Los Abrojos", recovering from his heart condition. On Sunday, his wife, First Lady Juliana Awada played down the president's heart condition telling reporters he was well. "Anyone can have an arrhythmia. It's nothing serious," she said.