Hillary claims Democratic presidential nomination and appeals to Sanders supporters
Wednesday, June 8th 2016 - 08:14 UTC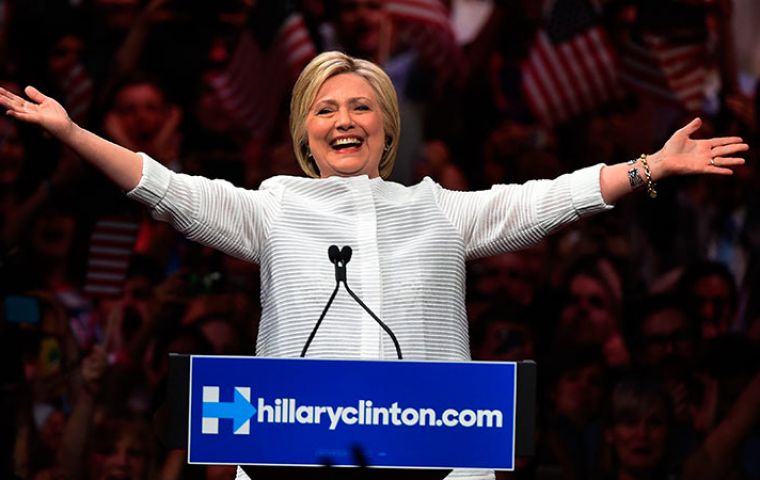 Hillary Clinton claimed the United Stated Democratic presidential nomination on Tuesday night after decisive victories in the New Jersey and New Mexico primaries, and quickly appealed to supporters of Senator Bernie Sanders of Vermont to unite with her against Donald J. Trump.
At a rally in Brooklyn, Mrs. Clinton took the stage with her hands clasped over her heart in gratitude, then threw open her arms in joy and savored a long moment as a jubilant crowd waved American flags and chanted "Hillary."
Reaching for history as she became the first woman to win a major party's nomination, Mrs. Clinton pledged to build on the achievements of pioneers like the 19th-century leaders at Seneca Falls, N.Y., who began the fight for women's rights in America.
"Tonight caps an amazing journey — a long, long journey," Mrs. Clinton said, nearly a century after women won the right to vote nationwide. "We all owe so much to that who came before, and tonight belongs to all of you."
She also lavished praise on Mr. Sanders, saying that their "vigorous debate" had been "very good for the Democratic Party and America."
With six states voting on Tuesday, Mr. Sanders was holding out hope for a huge upset in the California primary to justify staying in the race and lobbying Democratic officials to support him in a contested convention next month.
Mr. Sanders won the North Dakota caucuses, while Mrs. Clinton won South Dakota; Montana Democrats also voted. Republicans voted in several states.
Though Mr. Sanders made plans to lay off much of his campaign staff, he appeared reluctant to let go completely after months of political warfare against a Clinton machine that he holds in thinly veiled contempt.
President Obama plans to meet with Mr. Sanders at the White House on Thursday at the candidate's request, an administration spokesman said, adding that Mr. Obama had called both Democratic candidates Tuesday night to congratulate them on "running inspiring campaigns."