Merkel appeals to UK voters: "I personally wish for Great Britain to stay part of the European Union"
Wednesday, June 8th 2016 - 08:05 UTC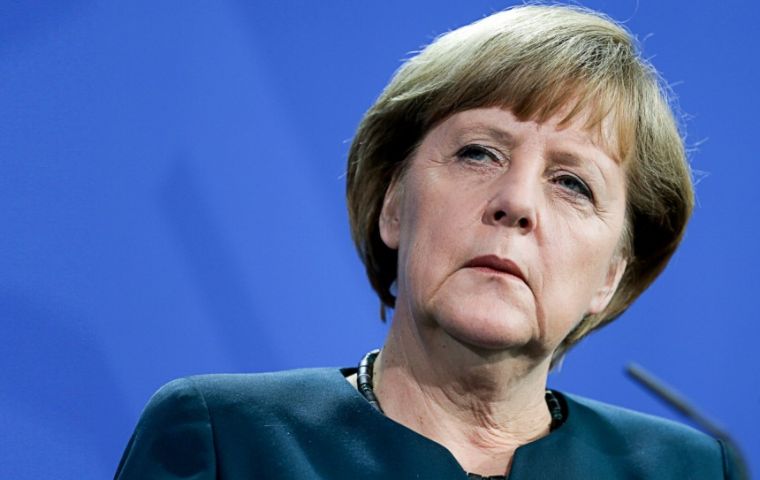 Angela Merkel broke her silence during the referendum campaign to warn that Britain would find itself isolated and weakened in trade talks outside the European Union. The German chancellor, who has not commented since David Cameron named the referendum date in February, said that a place at the bargaining table for the single market and international trade deals were reasons for Britain to remain in the EU on June 23.
"One nation by itself will never be able to achieve such good results," she said.
Merkel's remarks came after opinion polls showed the Leave campaign gaining ground. She became the third key European leader to speak out in favor of Britain remaining in the EU in 24 hours following remarks by Mark Rutte of the Netherlands and Mariano Rajoy of Spain.
"I have already said several times I personally wish for Great Britain to stay part of the European Union," Merkel said in Berlin alongside Jens Stoltenberg, secretary-general of Nato.
"Why do I want that? Because we co-operate well with Great Britain, especially when the EU sets new rules and because I believe that when we sit together in the EU ... each result is better than having to negotiate from outside," she said.
"Second ... co-operation between us and Great Britain has been very good in the single market and always has been under all German chancellors.
"We never reach the same agreements or achieve the same good results with someone who comes from outside — countries which do not share the responsibility and costs of the single market."
Merkel followed President Obama's warning in April that Britain would find itself at the back of the queue operating as a lone nation in international trade talks. "If you think of trade agreements ... one nation by itself will never be able to achieve such good results," she said.
"Therefore I believe it is to the benefit of all of us ... to pull our weight as part of the EU in negotiations." Merkel was keen to stress she was not dictating to British voters but offering her personal opinion.