Brazil and Paraguay 'deeply' concerned with the economic and human rights condition in Venezuela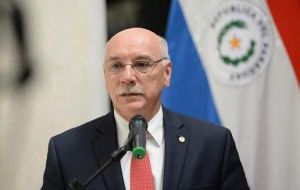 Brazil and Paraguay foreign ministers Jose Serra and Eladio Loizaga expressed "deep concern" with the Venezuela crisis situation, particularly the "economic and human rights continued deterioration", and reiterated their two countries willingness to cooperate and promote dialogue.
"We reviewed the regional agenda, and shared our concern over the continued economic deterioration and of human rights in Venezuela", Serra told the media, next to Loizaga, following a meeting in Brasilia, but which did not accept questions.
Paraguay's Loizaga held his first round of talks with Serra, after having been received by Brazilian interim president Michel Temer.
"Both our countries are willing to cooperate in the search for a solution and dialogue between the government of president Nicolas Maduro and the opposition, always in the framework of democratic institutions and practices", underlined minister Serra.
The Brazilian official was particularly concerned about the very serious scarcity of medicines and pharmaceutical products in Venezuela, and ratified Brazil is in a position to donate medicines produced in government laboratories, "as long as this is done and distributed through international humanitarian organizations"
"We agree it is necessary to help the Venezuelan people" said Loizaga, and underlined that both Brazil and Paraguay are "fully committed to the rule of the law and respect for human rights".
Both ministers also expressed their confidence that Mercosur will be able to reach a "balanced" trade agreement with the European Union, following the recent exchange of proposals between the two blocks.
"We are going to double efforts to reach a balanced accord with the EU", said Serra, adding that this can only be possible "if there is the correct reciprocity" a necessary condition for any agreement on trade.
Loizaga on his turn agreed and pointed out that negotiations with the EU are going to advance, although it won't be easy. "This is a new vision and path for Mercosur and regional integration".
However nothing was advanced regarding the Mercosur chair, which will be changing hands, from Uruguay to Venezuela next July, supported by Argentina and Uruguay, but strongly questioned y Paraguay and Brazil.