World Bank slashes global growth forecast to 2.4%, down from 2.9%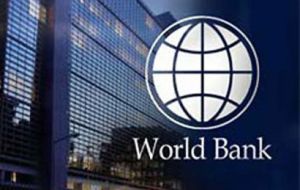 The World Bank has slashed its 2016 global growth forecast to 2.4% from the 2.9% estimated in January, due to stubbornly low commodity prices, sluggish demand in advanced economies, weak trade and diminishing capital flows.
Commodity-exporting emerging market countries have struggled to adapt to lower prices for oil, metals, and other commodities, accounting for half of the downward revision, the multilateral lender said in its latest Global Economic Prospects report.
It expects these economies to grow at a meager 0.4% pace this year, a downward revision of 1.2 percentage points from the January outlook.
The institution picked out Brazil, predicting that its recession will continue into a third consecutive year, while Venezuela was predicted to suffer the world's deepest contraction in 2016. The World Bank said those two nations will drag Latin America into back-to-back economic contractions for the first time in more than three decades.
Brazil will contract 4% in 2016 and 0.2% next year, with the 2017 outlook revised from a prior forecast for a 1.4% expansion. Venezuela's economy is seen shrinking 10.1% this year, more than double the multi-lateral's prior estimate and the worst performer among all countries tracked by the World Bank.
Commodity-importing emerging market countries are faring better, but the benefits of lower energy and other goods have been slow to materialize, the World Bank said. It now expects growth in these countries will reach 5.8%, down a tenth of a percentage point from the January forecasts.
In the United States, a steep decline in energy sector investment and weaker exports will also shave eight tenths of a percentage point from the World Bank's 2016 forecast, bringing growth to 1.9%.
The Euro area saw a slight downgrade of its 2016 forecast to 1.6%, despite extraordinary monetary policy support and a boost from lower energy and commodity prices.
"As advanced economies struggle to gain traction, most economies in South and East Asia are growing solidly, as are commodity-importing, emerging economies around the world," said World Bank Chief Economist Kaushik Basu said in a statement.
However, he cautioned that the rapid rise of private debt in several emerging and developing economies posed a risk to growth should non-performing bank loans rise.
The downgraded World Bank forecast follows a similar move by the International Monetary Fund, which cut its growth forecasts two months ago.