Gibraltar Chief Minister to Address the UN C 24 Committee on Monday
Saturday, June 11th 2016 - 06:31 UTC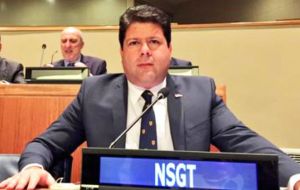 On Sunday Gibraltar Chief Minister Fabian Picardo and Deputy Chief Minister Dr Joseph Garcia leave the Rock for New York in order to attend the session of the UN Special Committee on Decolonization, usually known as the Committee of 24.
The Chief Minister will be addressing the Committee on Monday, which is a Bank Holiday in Gibraltar. He will take the opportunity to argue that the Committee must abide by its responsibilities and remove Gibraltar from the list of Non-Self-Governing Territories. Mr Picardo will say that the right to self-determination of the people of Gibraltar must be paramount.
This visit is in keeping with the commitment made by the Government to put across Gibraltar's point of view to the Committee of 24 in June and to the 4th Committee of the United Nations in October.
Whilst in New York, Mr Picardo and Dr Garcia will be meeting with politicians and businesspeople before returning to Gibraltar on Tuesday.
During their absence, The Minister for Health, the Environment, Energy and Climate Change, Dr John Cortes will be the Acting Chief Minister.