Brazilian suspended lawmaker warns that if arrested he will take other politicians down with him
Thursday, June 16th 2016 - 11:54 UTC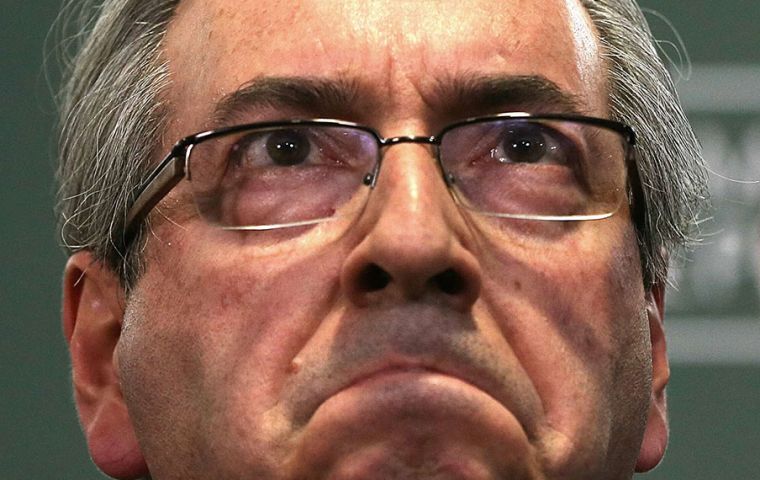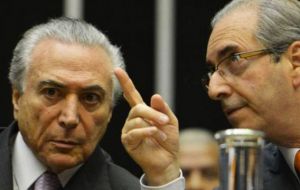 Brazil's congressional ethics committee voted to strip suspended Speaker Eduardo Cunha of his seat for allegedly lying about undeclared Swiss bank accounts, the latest in a series of political earthquakes to rock Latin America's largest country.
Cunha insisted on his innocence and vowed to appeal the decision to another congressional committee. To remove him from office, a majority of the lower house of Congress still needs to affirm the decision.
If he loses his seat, Cunha, the architect of suspended President Dilma Rousseff's impeachment, will also lose the partial immunity enjoyed by elected politicians. He could then be arrested and prosecuted by lower courts in several corruption cases brought against him.
Cunha has warned that if he is arrested he will take other politicians down with him, signaling a danger for interim President Michel Temer that a Cunha plea bargain could implicate more members of his government and ruling PMDB party in corruption.
Cunha is the only sitting Brazilian lawmaker to face trial in the massive bribery investigation focused on state oil company Petrobras, in which he was indicted for receiving a $5 million bribe related to contracts for two drill/ships.
The ethics committee voted to eject him from Congress for lying about holding bank accounts in Switzerland with his wife, who has also been indicted by prosecutors for receiving bribe money from a Petrobras purchase of an oil field in Benin.
Federal prosecutors who are unraveling the Petrobras kickbacks scheme ordered the freezing of Cunha's assets. The powerful speaker's downfall was in the cards since the Supreme Court suspended him in May for using his position to obstruct the ethics committee hearings for months on end.
A wily backroom dealmaker, Cunha and his supporters have used every rule in the book to delay proceedings against him. Tuesday's tight 11-9 decision in the 21-member committee hinged on the vote of a little-known evangelical congresswoman and former bible studies teacher known as Aunt Eron.
On Monday, the prosecutors in the Petrobras investigation filed a civil lawsuit against Cunha and his wife seeking the return of US$5.7 million in alleged graft money. They also called for Cunha to be barred from politics for 10 years.