Cameron cancels "Stronger in Europe" rally in Gibraltar following killing of Labor MP
Friday, June 17th 2016 - 07:42 UTC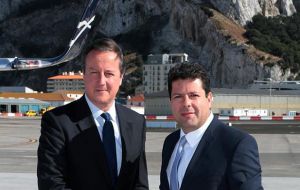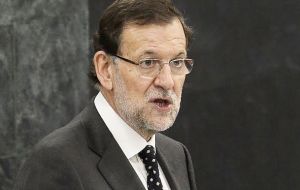 Thursday's "Stronger in Europe" rally at Gibraltar at which UK Prime Minister David Cameron was due to speak, was cancelled at the last minute after Labour MP Jo Cox was shot and stabbed in an attack in West Yorkshire. The news of the fatal attack came shortly after Cameron arrived t the Rock.
Both the "Stronger In" and "Vote Leave" groups agreed to cease campaigning as a mark of respect, and soon afterwards the Prime Minister himself announced on social media that he would not be going ahead with the Gibraltar rally.
A small reception for local MPs and dignitaries went ahead as planned, and the Prime Minister also spoke privately to GBC and the Gibraltar Chronicle.
When Cameron's private plane landed just after 4pm, he was greeted on the tarmac by Chief Minister Fabian Picardo.
Picardo acknowledged that the tragic developments in the UK meant there was no option but to cancel the event and suspend all campaigning.
"The Prime Minister's presence in Gibraltar is hugely important news but there is nothing more important than the right to life," Mr Picardo said. "Although everybody who was waiting for the Prime Minister in Casemates will be disappointed, this is the right thing to do".
As expected Spain objected strongly to the visit of the Prime Minister to Gibraltar, repeating the line issued during the visit of Foreign Secretary last month, and suggesting that this is a 'negative gesture' between two allied and friendly countries.
According to the Spanish press, President Mariano Rajoy has told the UK Foreign Office that the objection is based on historical principle and sovereignty. However, an official protest will not be made, and there is no expectation that the British ambassador in Madrid will be summoned.
Caretaker Rajoy is also quoted in the press as having told Downing Street, "Gibraltar is Spanish, regardless of whether there is a Brexit or not."
"What is being debated is whether the United Kingdom remains or leaves the European Union, and that campaign should be carried out in the United Kingdom, not in Gibraltar", insisted the Spanish president.
However Rajoy admitted that there had been contact between his office and No 10 Downing Street on Wednesday ahead of the visit and that both sides had reaffirmed traditional positions. He also stressed that Spain believed the UK was better off inside the EU, not just for its own sake but for that of the bloc as a whole.
"A vote to Leave would not be good for the British or Spanish economies…" he said.