Meirelles sponsors constitutional amendment to cap public spending increases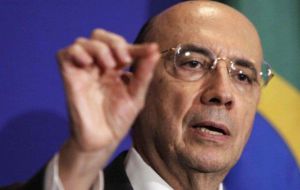 The government of Brazil's interim president Michel Temer said on Wednesday it would propose to lawmakers a constitutional amendment to cap public spending increases for at least 10 years.
Under the proposal, announced 10 days ago but unveiled on Wednesday by the Finance Ministry, growth in spending by the executive, legislative and judicial branches during a given fiscal year could not exceed the prior year's inflation rate.
The cap would not be allowed to be modified for the first 10 years after the amendment is enacted but could be eased over the following decade with congressional approval.
"The main goal of this measure is to ensure that growth in the public debt relative to gross domestic product (GDP), which has grown systematically, is stabilized and then begins to fall," Finance Minister Henrique Meirelles said.
Brazilian government expenditures grew faster than inflation between 1997 and 2015 and the situation was particularly acute between 2008 and 2015, he added.
"It's impossible to continue indefinitely spending more than what society is able to pay," Meirelles said at a press conference, in which he said constant spending increases were one of the causes of Brazil's current severe recession.
He made no direct reference to suspended President Dilma Rousseff, who was forced from office last month for up to six months while she undergoes an impeachment trial in the Senate for allegedly massaging budget numbers to minimize the deficit.