Gibraltar court will decide on a man who unfurled a Spanish flag in the Rock
Wednesday, June 22nd 2016 - 11:36 UTC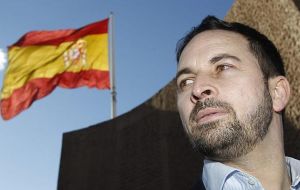 A man was arrested in connection with the unfurling of a Spanish flag in Gibraltar. The man remains in Police custody and will be appearing before the Magistrate's Court on Wednesday morning.
Juan Ignacio Minguez Martinez, 53, a resident of Madrid and chairman of the right wing VOX party in that city, was charged after spending the night in custody. e faces one count of conduct likely to cause a breach of the peace and will appear before the Magistrates Court tomorrow morning.
Minguez was arrested following reports of a large Spanish flag being displayed in an area near Signal Station Road, on the western side of the Upper Rock.
The flag incident has received wide media coverage in Spain, with VOX members boasting about the stunt and describing it in quasi-military terms.
Santiago Abascal, the VOX candidate for prime minister in Spain's forthcoming general election, posted a video clip of the flag being unfurled with words "mission accomplished".
Abascal is himself wanted for questioning by the Royal Gibraltar Police in connection with the theft of a block from Gibraltar's artificial reef in 2014. According to the Spanish Press, a number of party members assisted in the operation, afterwards making their escape from the Rock by swimming away.