Speaker of Brazil's Lower House will feel "proud" if Rousseff is impeached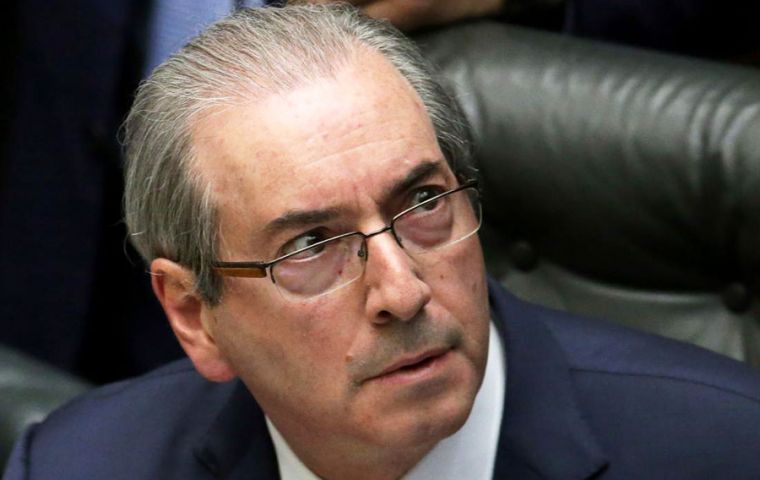 The speaker of Brazil's lower house of Congress, currently sidelined pending trial on corruption charges, said Tuesday that he will feel "proud" if the case against suspended President Dilma Rousseff ends with her impeachment.
"I'm neither a hero nor a villain in the case" against Rousseff, Eduardo Cunha told a press conference. As house speaker, Cunha last December agreed to accept the charges that led to Rousseff's trial.
In his first press conference since the Supreme Court decided to suspend him from his position, Cunha said Tuesday that he has "an easy conscience" about the case against Rousseff, who is charged with engaging in accounting maneuvers to minimize the budget deficit.
About his own legal situation, he said "each and every one" of the charges of alleged corruption against him are false and will be "fully proved" as such before the Supreme Court.
He also said that in an internal process opened in the house, which could lead to the definitive loss of his seat, his "right to defense" has been eliminated.
In that case, Cunha is accused of lying to a house committee by stating that he had no hidden foreign bank accounts. That statement was later refuted by Swiss authorities, who confirmed that he did.
While Cunha spoke to the press conference, a small group of Rousseff sympathizers slammed the "illegality" of Rousseff's trial and asked that the house speaker be jailed.
They also demanded Rousseff's return to office and called interim President Michel Temer, also under investigation for alleged graft, a "thief."
If the case being heard in the Senate ends with Rousseff's impeachment, Temer will complete the term in office that ends January first, 2019, but if the case against her is dismissed, she will return to power immediately.