UK´s Leave vote is of great concern for Argentina, admits Malcorra
Saturday, June 25th 2016 - 11:29 UTC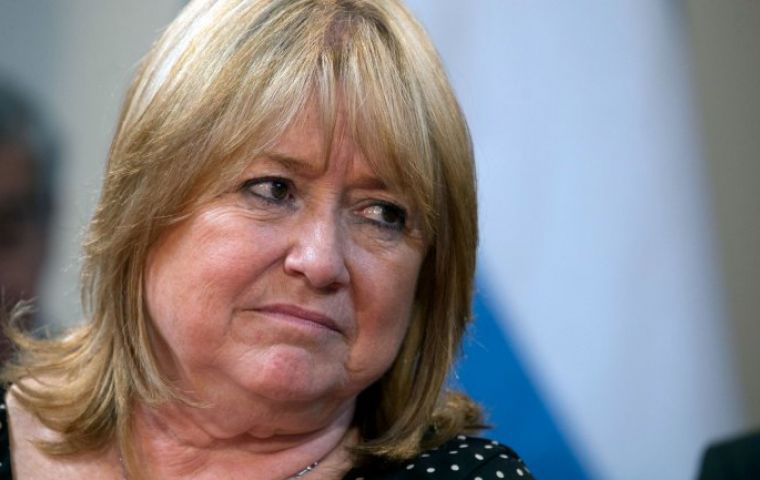 The exit of the United Kingdom from the European Union is of most concern to the administration of Argentine president Mauricio Macri, said foreign minister Susana Malcorra. "It is a shock for world institutions", but it's too early to gauge the impact on the Falklands/Malvinas discussions.
"UK´s exit from the European Union is of great concern for us. It is a very strong signal. The world is going through moments of great fear, wishing to close doors and a strong tendency towards some kind of xenophobia", pointed out Malcorra during a press conference at the San Martin Palace in Buenos Aires.
Obviously "we are seeing a great shock to world institutions, a very strong blow", but she insisted "nothing is going to happen tomorrow or the day after, but rather the exit will be a very slow process".
Asked specifically about Brexit and possible impacts on the Falklands/Malvinas dispute Macorra said that above all, what happened was a sovereign decision of the British people, "and as far as the Malvinas question, at this stage I can´t say".
"Malvinas is too important for us, but UK´s separation from the EU has wider implications", and pointed to relations between the EU and Mercosur as the most affected.
However Malcorra admitted that Argentine official policy towards the South Atlantic islands was "to work on a common shared agenda" and ratified that the Macri administration is attempting some short but firm steps in a confidence building process with UK and the Islanders. "Our objective is to advance in a scheme that involves negotiation and dialogue".
"We believe it is a sovereignty question but the petitioners (Falkland Islanders) see is as a matter of self determination", said the Argentine foreign minister.
Finally Malcorra´s reading of the Brexit vote was that "what UK has decided is a call of attention for the rest of EU countries to come up with new accords in the network. It´s a call for a more integrated transparent politically sensitive Europe, and if this is the case, I think it is the right thing".