Berlin and Paris in "full agreement"; Merkel aide says politicians in London should take time to reconsider Brexit
Monday, June 27th 2016 - 08:07 UTC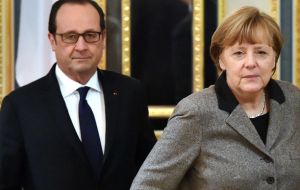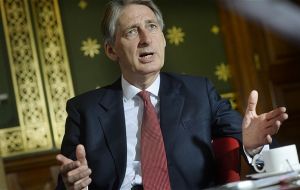 German Chancellor Angela Merkel and French President Francois Hollande said on Sunday they are in "full agreement" on how to handle the fallout from the UK's decision to leave the European Union. Hollande warned that "separated, we run the risk of divisions, dissension and quarrels".
The two will hold talks later in Berlin amid a flurry of diplomatic activity in the wake of so-called "Brexit".
British Prime Minister David Cameron will hold a cabinet meeting on Monday and the UK parliament will reconvene, while Boris Johnson, who led the Leave campaign and is tipped to replace Cameron, has said the UK will continue to "intensify" co-operation with the EU.
Speaking on Sunday, Hollande said there was no going back on the UK's decision, adding: "What was once unthinkable has become irreversible."
Chancellor Merkel is to host President Hollande, Italian Prime Minister Matteo Renzi and European Council President Donald Tusk later on Monday. US Secretary of State John Kerry is also due in London and Brussels for talks.
Over the weekend, European Commission President Jean-Claude Juncker said the process for Britain's withdrawal from the bloc should begin "immediately". Several EU foreign ministers also urged Britain to start the process soon.
However, Foreign Secretary Philip Hammond indicated the UK would resist pressure for a swift start to negotiations, insisting that "nothing is going to happen at the moment".
That position was supported by Chancellor Merkel's chief of staff, who said Britain's politicians should take time to review the consequences of leaving the EU.
"Politicians in London should take the time to reconsider the consequences of the Brexit decision - but by that I emphatically do not mean Brexit itself," Peter Altmaier said.
If Britain really left, that would be 'a difficult watershed with many consequences,' RND quoted Altmaier as saying. Of course Britain could apply to rejoin the EU later, RND reported him as saying, 'but that would take a long time.'
Germany has traditionally been reluctant to exert an overt leadership role in Europe, though it has been increasingly assertive in recent years in designing the response to the Euro zone's debt troubles and, less conclusively, in seeking an EU-wide response to the influx of refugees and other migrants from the Middle East and elsewhere.
Even now, with one of the EU's heavyweights on the way out, Berlin is not likely to seek a sole leadership role, 'It will continue to lead with and through groups,' said Daniela Schwarzer, an expert on EU affairs at the German Marshall Fund of the United States think-tank in Berlin.
'There's this really strong concern to always be part of something and not going it alone.
'Germany has a huge interest that the Brussels institutions have more support than they currently have,' she added, and there is no sign that it 'actively seeks power and a hegemonic position'.
Merkel herself sounded a notably conciliatory note toward Britain in responding to the referendum, signaling what appears to be "a willingness to lower the cost of Brexit for both sides," she added.
"Our aim should be to shape future relations between Great Britain and the European Union so that they are close and based on partnership," Merkel said. She said she wants an "objective, good" climate in talks on Britain's exit and there is "no need to be particularly nasty in any way in the negotiations."