Angela Eagle to challenge Labor leader Corbyn, who is determined to carry on
Thursday, June 30th 2016 - 07:36 UTC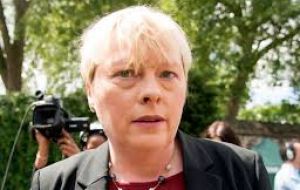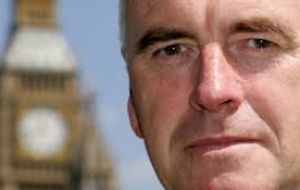 The former shadow business secretary Angela Eagle will challenge Jeremy Corbyn for the Labour leadership on Thursday, according to reports in the London media. It is understood Ms Eagle has the support of the 51 MPs needed to mount a challenge. She is one of 20 members of the shadow cabinet to have quit since Sunday, after which MPs approved a motion of no confidence in Corbyn.
However speaking in London, Mr Corbyn said not everyone agreed with him but he was determined to "carry on with his work". Corbyn's allies have accused rebel MPs of trying to "bully" him and say they believe he will win a leadership election.
A number of prominent union leaders have rallied behind Mr Corbyn, issuing a joint statement saying that the Labour leader had a "resounding mandate" and a leadership contest would be an "unnecessary distraction".
However, they go on, if a leadership election "occurs through the proper procedures we would expect all parts of the party to honor the result". And a leaked e-mail from GMB general secretary Tim Roache, seen by the BBC, suggests he expressed concerns privately about Corbyn's performance during the EU referendum campaign, which he described as "lackluster".
Earlier, deputy leader Tom Watson ruled himself out of a potential contest and said Mr Corbyn was refusing to stand down despite his position being untenable. Watson said the Labour leader had rebuffed his calls to resign in the interests of the party, leaving Labour "in an impasse" which risked turning into an "existential crisis".
Corbyn has refused to "betray" party members who helped him win an overwhelmingly victory in last year's leadership election and his backers say a formal leadership contest would be needed to depose him.
Speaking after quitting Corbyn's top team earlier this week, Ms Eagle - who has been an MP since 1992 and served in government under Gordon Brown - said she and others had tried to "make it work" under Corbyn but had concluded it was no longer possible.
Seen as being on the centre left of the party, Ms Eagle - whose twin sister Maria is also a senior Labour politician - deputized for Corbyn at prime minister's questions over the past nine months as shadow first secretary of state.
Addressing students in central London at an event organized by the pressure group Momentum, Mr Corbyn said he had a "mandate from hundreds of thousands of people" following his election victory last year and he was "proud to be carrying on with that work".
Arguing that his cause was "not about one individual", he said he wanted to move Labour away from a pro-austerity "economic orthodoxy" which it embraced at the last election and change the way politics was done in the country.
Shadow chancellor John McDonnell said Mr Corbyn was "buoyant" and "if there is another election, he will stand and I think he will win". McDonnell called for supporters of Corbyn to show "absolute determination, courage but above all else solidarity" in the face of attempts to change the direction of the party: "We're not going to be bullied by Labour MPs who refuse to accept democracy in our party.