Macri begins official visit to Germany looking for trade and investment
Tuesday, July 5th 2016 - 06:54 UTC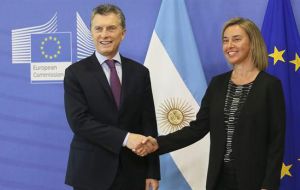 Argentine president Mauricio Macri arrived in Berlin on Monday, in his first official trip to the country and as part of an European tour aimed at strengthening Argentina's ties with the European Union. Macri arrived from Brussels where he met EU authorities and the day before, was in Paris with president Francois Hollande.
The head of state will be received on Tuesday by the German president Joachim Gauck, and is set to share a work lunch with German Chancellor Angela Merkel.
The second day in Germany will be marked by business meetings as he is scheduled to interview with top executives of Mercedes-Benz, Volkswagen and Siemens and will speak before German businessmen at a lunch organized by the German Association of Trade and Industry Chambers.
Earlier in Brussels, President Mauricio Macri assured his visit has helped "to narrow the relations between Argentina and Mercosur with the European Union" and "it's the beginning of a road that will bring opportunities for Argentines."
"I feel it's has been very good that we could come," the head of state said during a press briefing offered at the Argentine embassy in Brussels.
He underlined the "good atmosphere and the expression of enthusiasm with the transformations that are being carried out in our country." "We must continue to deepen and work" in the same line, he added.
"To end poverty, we need education and employment and we are here to look for investments," highlighted Macri.
The Argentine leader met with EU authorities at Berlaymont building, among them, European Union's foreign affairs chief Federica Mogherini. Later, he attended a lunch offered by European Council President Donald Tusk.
The president and First Lady Juliana Awada were also received at the Palacio Real by the King of Belgium Felipe, and Queen Matilde.
A delegation of seventy Argentine business leaders will be supporting Macri's visit to Germany in search for trade and investments. Two business forums are scheduled, in Hamburg and in Berlin.