A woman will succeed PM Cameron and lead UK's exit from EU
Friday, July 8th 2016 - 04:53 UTC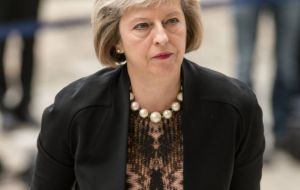 Two women Theresa May and Andrea Leadsom are battling to become the next leader of the British Conservative party and thus prime minister, the first time since the late Margaret Thatcher. After the second MPs ballot on Thursday, Home Secretary May finished with 199 votes, Energy Minister Mrs. Leadsom 84 and Michael Gove, the justice secretary, 46.
Conservative members will now decide the winning candidate, with the result due on 9 September. The winner will become the UK's second female prime minister.
Prime Minister David Cameron resigned after finishing on the losing side in the UK's EU referendum, in which there was a vote for the UK to leave.
The results were announced at Westminster by Conservative MP Graham Brady, the chairman of the backbench 1922 Committee. There had originally been five contenders to succeed Cameron, with MPs voting in two rounds to get that number down to two.
The contest now moves to its final stage with the Conservative Party's 150,000-strong membership deciding between Mrs. May, a Remain campaigner with a long track record in government, and Mrs. Leadsom, a leading light of the Brexit campaign who has stressed her City and business background.
Speaking after the results were announced, Mrs. May said she had secured support from all wings of the Conservative Party and pledged to bring the Tories together.
Mrs. May promised "strong, proven leadership" to negotiate the UK's departure from the EU, and to "make Britain a country that works not for a privileged few but for every one of us".
Conservative MP Tim Loughton, Mrs Leadsom's campaign manager, said she would bring a "huge and fresh skills base" to Downing Street if elected. He played down her lack of cabinet experience, saying she would have "no problem stepping up to the job" having had a long career outside politics, adding: "She has done things outside of this place on so many different levels."
Michael Gove said he was "naturally disappointed" not to have made it to the final two, describing the remaining contenders as "formidable politicians". He welcomed the fact that the UK would be getting a second female prime minister - after Margaret Thatcher - and called for a "civilized, inclusive, positive and optimistic debate".
Mr Gove did not announce backing for either candidate, but several of his key backers, including Education Secretary Nicky Morgan and Culture Minister Ed Vaizey, switched their support to Mrs. May.