Brazil's speaker of the Lower House resigns "to help stabilize the chamber"
Friday, July 8th 2016 - 09:35 UTC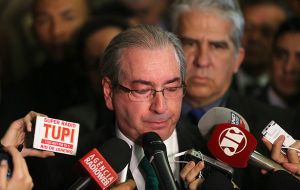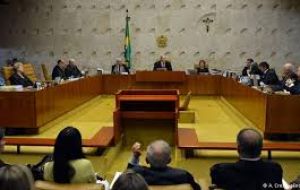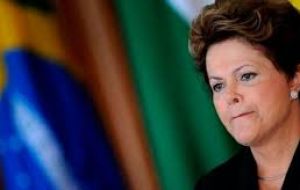 Brazil suspended speaker of Brazil's lower house of Congress resigned from his post on Thursday, saying the move was aimed at bringing stability to that legislative chamber. Eduardo Cunha still retains his seat in the Chamber of Deputies, although he could lose it as part of an internal legislative process.
"Only my resignation can help stabilize the chamber," which lawmaker Walter Maranhao is presiding over on an interim basis, albeit without the support of his colleagues, Cunha, on the verge of tears and his voice cracking, said at a press conference.
Cunha's resignation will clear the way for an election to choose a new speaker.
Prior to being suspended in May by the Supreme Court, which has opened a criminal case against him on charges he obstructed a corruption investigation, Cunha last December accepted a petition for the start of impeachment proceedings against Brazilian President Dilma Rousseff.
Rousseff was suspended from office on May 12 pending the result of a Senate impeachment trial that could result in her permanent removal from office.
Cunha referred to Rousseff's case in the press conference, saying he had been a victim of political persecution since launching the impeachment proceedings against the center-left head of state, who is accused of massaging budget figures to disguise the size of a large budget deficit.
"My conscience is clear. I helped make the country better and free it from a criminal government ... that had sunk Brazilian society into chaos," he said, alluding to the recession-hit country's economic troubles.
"We freed Brazil from a government that committed crimes of responsibility and was inoperative. I'm proud of all of that," he said.
Cunha expressed confidence in the Brazilian justice system and said he would demonstrate that he had no involvement in a sprawling corruption scheme centered on state oil company Petrobras that has ensnared prominent political figures and top company executives.
Cunha, who as speaker had been second in the line of succession, was charged by the Supreme Court in early May with obstructing a probe into allegations he had millions of dollars in secret Swiss bank accounts.
Rousseff was re-elected in October 2014 to a four-year term ending Jan. 1, 2019, which acting President Michel Temer, a member of Cunha's PMDB party, would complete should the Senate vote by a two-thirds majority to remove Brazil's first woman president