Downing Street legend welcomes Theresa and says good bye to the Camerons
Wednesday, July 13th 2016 - 01:57 UTC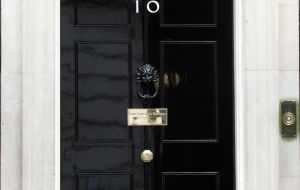 Britain's new leader Theresa May will move into her official residence at 10 Downing Street Wednesday as Prime Minister David Cameron moves out, but one member of his team is staying put: Larry the cat. The brown and white tabby is deemed to be a government worker and will continue to live at the famous address even after his boss packs his bags, officials said.
The four-legged resident becomes one of the few British political figures to have survived the turmoil of last month's Brexit referendum.
Cameron, who quits after the vote, will depart sometime Wednesday with his wife, Samantha. They have lived above the famous black door for six years.
Larry is the latest in a line of felines tasked with keeping Downing Street free of rodents. He arrived in 2011 from the London's Battersea Dogs and Cats Home for rescued animals.
"Larry is staying. He's very much the Downing Street cat, not the Camerons' personal cat," Cabinet Office spokesman Benjamin Oliver said, adding: "He is a Downing Street legend."
The tradition of Downing Street cats dates back to the 1800s, according to the UK's National Archive. Larry's most recent predecessor, Humphrey, was retired in 1997 — reportedly at the request of Tony Blair's wife, Cherie.
In April, Larry gained some company in the form of another government cat, named Palmerston after Britain's 19th century foreign minister and PM, Lord Palmerston. His job is to patrol the neighboring Foreign Office — earning him the title "diplomog" — and he has an official twitter account.
The high political tension since Brexit vote was further evident late Monday when Larry and Palmerston had a very loud disagreement about matters of state that was overhead by political reporters and television news crews gathered outside 10 Downing Street.