Argentina's tall ship frigate "Libertad" calls in Liverpool, first time in 24 years
Monday, July 25th 2016 - 10:03 UTC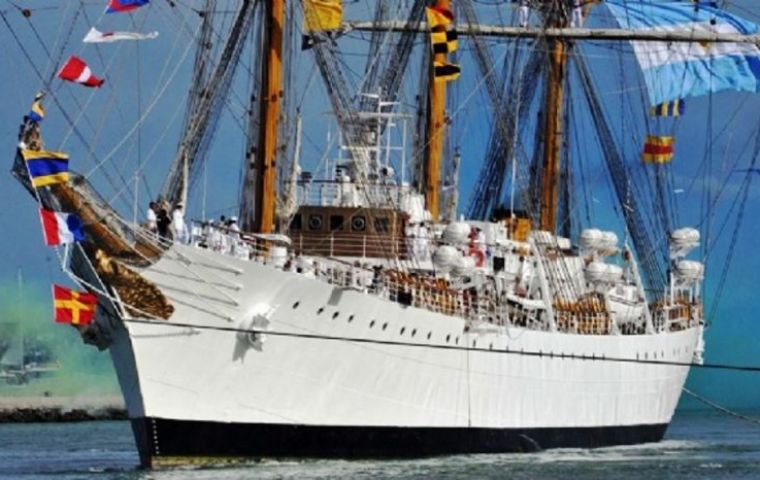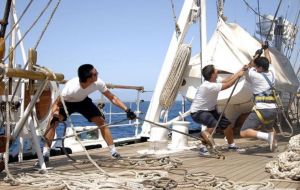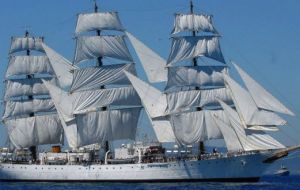 The Argentine Navy tall ship frigate Libertad docked in Liverpool on Saturday on its first visit to the Mersey River in 24 years. Arriving in style to the sound of The Beatles, the crew band had been practicing Yellow Submarine since they left Argentina. Docked at Liverpool's cruise terminal she was open to the public on Sunday.
The Argentine Ambassador to the UK, Carlos Sersale di Cerisano welcomed the crew of 27 officers, 192 non-commissioned officers and 132 training officers, who are on their final year of midshipman training.
Chief commander Ignacio Errecaborde said: "We are really excited and really pleased to be here. Liverpool is a wonderful city" He added, "we have a young crew and we want them to become the best they can. What better way to do that than see the world and experience lots of fantastic cultures such as here".
This Monday a wreath will be placed at the Mimosa Memorial on Princes Parade, which was unveiled in 2015 to mark 150 years since the first Welsh settlers to Patagonia set sail from Liverpool.
A reception with a group of Royal Navy officers and cadets, the presidents of APARU (Association of Argentine Professionals in the United Kingdom) and the Anglo-Argentine Society, and Embassy staff will be held aboard the ship.
Libertad has spent 17 of her 53 years at sea, covering over 800,000 nautical miles and visiting over 500 ports in 60 countries.
Around 11,000 Argentine seamen have been trained aboard and Libertad holds the world speed record for crossing the North Atlantic – covering 2,058 miles from Cape Race (Canada) to the line between Dublin/Liverpool, in just eight days and 12 hours.
The 104m-long frigate, which has visited ten different countries on its latest voyage, will set sail for Dublin on Tuesday ahead of visits to Spain, Italy, Greece and Uruguay.
She has already called ports in Brazil, United States, Holland and France as part of her 196/day world tour. Libertad is scheduled to return to Buenos Aires 5 November.
This is a very special year for the global tour since Argentina is celebrating the two centuries of its declaration of independence, 9 July 1816.
Built between 1953 and 1956, the Frigate ARA Libertad is now used as a training ship for the Argentine Navy. It is the successor to the Frigate Presidente Sarmiento, which was built right here on Merseyside by Cammell and Laird Co.
A virtual tour of the ship can be taken at www.fragatalibertad.mindef.gob.ar