UK ambassador in Argentina presents credentials: new chapter in relations﹖
Monday, July 25th 2016 - 09:51 UTC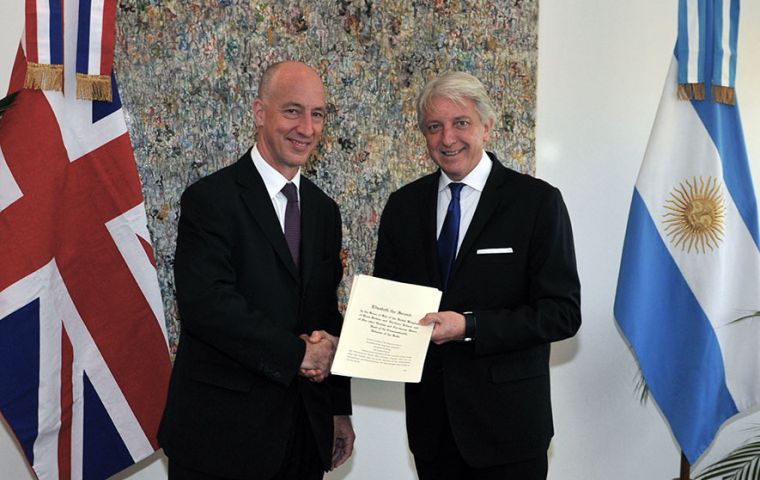 Mark Kent, the new British Ambassador to Argentina formally presented copies of diplomatic credentials to Deputy Foreign Minister Carlos Foradori last week, marking the start of a four-year stint as London's representative in Buenos Aires. Kent, who was British Ambassador to Thailand from 2012 until April of this year, replaces John Freeman.
Kent takes charge at a time when the London-Buenos Aires relationship is in the process of being re-drawn after years of tensions. President Mauricio Macri administration has opted to change track with regard to its relationship with the United Kingdom, seeking to broaden ties beyond the sovereignty dispute over the Falklands/Malvinas Islands into areas of mutual cooperation such as investment and trade.
Nonetheless, the Argentine government policy of claiming sovereignty over the disputed South Atlantic Islands has not changed and President Macri and Foreign Minister Susana Malcorra have insisted that the Malvinas Islands remain a priority, but should not interfere with other areas of cooperation.
Argentina is Kent's third Latin American posting after spending time in Brasilia from 1989 to 1993 and holding the role of Commercial Counselor and Consul General in Mexico from 2000 to 2004. Buenos Aires is Kent's third posting as an ambassador, after having previously served in Bangkok and Hanoi.
According to the official biography, ambassador Mark Kent graduated in Law from the University of Oxford. He gained a Master's degree in European Law and Economics from the Université Libre de Bruxelles in Belgium, and has a postgraduate qualification in Business Administration from the Open University. He has studied Thai at Chiang Mai University, Khon Kaen University and Chulalongkorn University. He is fluent in French and Spanish.