Calls to reframe BOT-UK relationship: 'Territories are now more strategically important to Britain'
Tuesday, July 26th 2016 - 11:19 UTC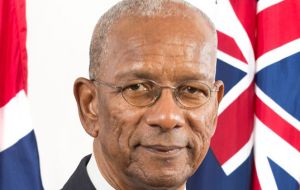 The Premier of the British Virgin Islands Dr D Orlando Smith has called for the relationship between the United Kingdom (UK) and its Overseas Territories (OTs) to be re-framed to become more mutually beneficial.
Dr. Smith made the comments in the Turks and Caicos Islands this month while attending meetings with other political leaders of Overseas Territories, Anguilla, Bermuda, Cayman Islands, Falkland Islands, Gibraltar, Montserrat, Turks and Caicos Islands.
"There is need for re-reframing of the OT-UK relationship to be more mutually beneficial, and take into direct account the priorities of the Territories," Premier Smith.
According to the British Virgin Islands government Information Service, the premier also said, now that the UK has voted to leave the European Union in a process dubbed Brexit, the Overseas Territories are more strategically important to the United Kingdom than ever.
"The OTS are now more strategically important to Britain than ever before. To remain globally relevant, the UK needs to maintain as large an international footprint as possible. The Territories are integral to the UK having a global presence."
"The political and economic reality of Brexit should bring into clearer focus the value of OTs and our strategic position on security, trade, environment and foreign affairs," added Premier Smith, who is also president of the United Kingdom Overseas Territories Association.
The OTs political leaders also discussed plans for their annual Joint Ministerial Council (JMC) meeting in the United Kingdom later this year.
"We made good progress in preparing for ministerial discussions at the JMC later this year in London," said Premier Smith, who was accompanied to the Turks and Caicos Islands by his permanent secretary Brodrick Penn and Director of International Affairs.