Argentina and Brazil celebrate 25th anniversary of accord which buried nuclear rivalry
Wednesday, July 27th 2016 - 15:14 UTC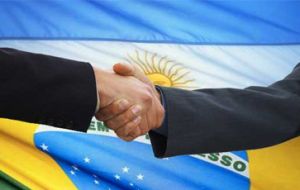 Argentina and Brazil commemorated on 18 July the 25th anniversary of the creation of the Brazilian-Argentine Agency for Accounting and Control of Nuclear Material, ABACC, which was the result of the nuclear energy exclusive peaceful use accord, signed by then presidents Carlos Menem and Fernando Collor, in Guadalajara, Mexico.
The date (1991) is considered a milestone for bilateral and regional relations between the two largest South American countries, which took off in 1985 when presidents Raul Alfonsin and Jose Sarney met at the Iguazú falls met to consolidate the objective of a Latin America free of nuclear weapons.
The longstanding rivalry of the two largest countries and economies in South America, which under military regimes went as far as planning the development of nuclear weapons, under the budding democratically elected governments in the early eighties put a cap on resources and development of such a path. It also helped with the foundation later that year (1991) of the Mercosur, or Common Market of the South, which marked a qualitative change in the history of regional relations.
The bi-national ABACC which was elaborated taking as an example Euratom has its main offices in Rio do Janeiro and is made up of a team of qualified inspectors which keeps watch that nuclear energy is effectively used for peaceful purposes. The teams are jointly integrated and work closely with the support from the United Nations, International Atomic Energy Agency.
After a quarter of a century since its creation in a context in which the nuclear question occupies a central place in international relations, "this sui generis model is the result of the creativity and strong political commitment from both countries", points out an official release, adding that ABACC has also attracted a global growing interest, as a source of inspiration for similar arrangements in other regions, that with their specific challenges aspire to ensure peace zones,
For Argentina and Brazil this is a state policy, and on the 25th anniversary both countries reaffirm their commitment to the peaceful use of atomic energy, in a consensus of original formulas which contribute to international peace and security.