Wet weather conditions Argentine wheat crop; 2016/17 corn area expected to expand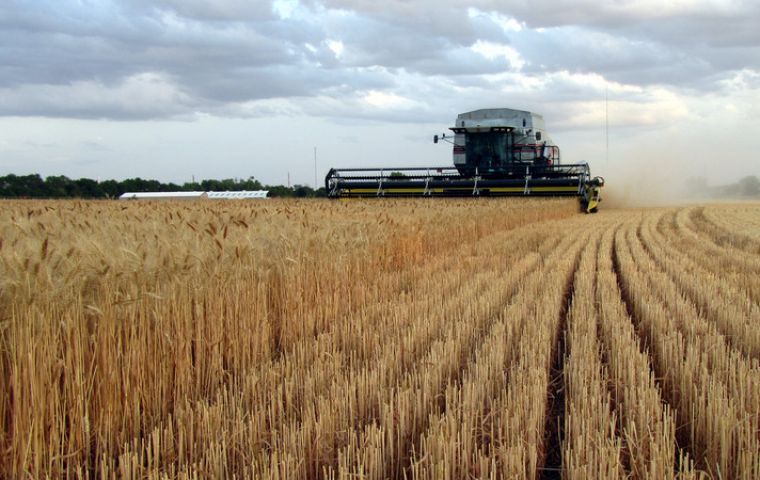 Hopes for a revival in Argentina's wheat production are falling, even as ideas for corn growing continue to mount, in part at the expense of soybeans, for which seed availability has emerged as an issue. Argentina's wheat production will increase in 2016-17, but not by as much as had been thought, the US Department of Agriculture bureau in Buenos Aires said, cutting to 13.7m tons their harvest forecast.
The downgrade, to a figure 1.3m tons below the official USDA forecast restated last week, reflected lower expectations for sowings, which are being held up by "unusually wet conditions" in key central Argentine growing areas, the bureau said.
"Parts of Entre Rios, Santa Fe and Cordoba provinces have suffered unusually excessive rains… which have shut down part of the road network, many dirt roads, and have worsened the problem of a high water table levels in many areas."
The bureau estimated Argentina's wheat area at 4.6m hectares, 400,000 hectares below the USDA's official estimate, and cautioned that the estimate could face an additional cut if the poor seeding conditions – at time when the ideal planting window has already closed in many areas – prompt farmers to switch land to corn or soybeans instead.
Argentine farmers had been expected to ramp up wheat output to the highest in five years or more in 2016-17, lifting export prospects too, thanks to the greater incentive to sow the grain provided by the ditching by the country's new government of export taxes and quotas on the grain.
However, the bureau's estimates would see Argentine wheat exports fall year on year, by 600,000 tons to 7.5m tons, rather than rising to 9.0m tons as the USDA official expects.
Separately, Argentina's agriculture ministry also lowered its estimate for the country's wheat seeding, by 90,000 hectares to 5.25m hectares, noting the "persistence of excess water and rise of water tables in some areas", and a reluctance of growers to plant when the idea sowing window had passed.
Meanwhile, the Buenos Aires grains exchange, which last week cut by 100,000 hectares to 4.4m hectares its forecast for Argentine wheat sowings for 2016-17, warned that a continuation of wetness-caused delays to seeding in Buenos Aires province could prompt a further downgrade.
While Argentine farmers overall, with 82.6% of their wheat in the ground, 11.2 points behind last year's pace, in southern Buenos Aires, the delay was equivalent to 30 percentage points.
By contrast, the USDA bureau lifted its estimate for Argentine corn area for 2016-17 to 4.5m hectares – 300,000 hectares above the official USDA forecast, and representing a rise of 28% year on year.
Besides flagging the potential for farmers "to skip planting winter crops and plant directly soybeans or corn", the bureau noted that government reforms to the grain export regime had "made corn returns very attractive.
"The new situation encourages farmers to incorporate corn into their farm's crop rotation scheme, which in the past several years had shifted strongly towards soybean production," the bureau said, although it was cautious on yield prospects, given the history of La Nina years bringing undue dryness to parts of Argentina.
There are "some players who estimate even a larger expansion" in corn sowings, the USDA bureau added – even as the Rosario grains exchange forecast "an increase in area of the order of 30%"
In corn, "there are strong movements in the sales of seeds hybrid", the Rosario grains exchange added.