Falklands and bilateral agenda addressed by UK top official in Argentina
Thursday, July 28th 2016 - 06:19 UTC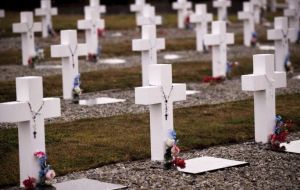 The recently appointed UK Foreign Office Permanent Under Secretary and Head of the Diplomatic Service Sir Simon McDonald was received this week at the Argentine foreign ministry where he met with Deputy minister Carlos Foradori, and one of the several issues addressed was the forensic actions to help identify Argentine combatants buried at the Darwin cemetery, according to a release from Palacio San Martin.
During the audience the two officials discussed the current state and prospects for Argentine-British relations, "particularly those aspects that make to the development of a positive bilateral agenda".
Deputy minister Foradi pointed out the global insertion process of Argentina that has been advanced by the government of president Mauricio Macri, underlining the possibilities of collaboration and complementation offered by links with the United Kingdom in a broad spectrum of issues such as science and technology, security, terrorism and the drugs trade, among others.
Further on the release mentions coincidences referred to the potential of the bilateral relation to advance in issues linked to the interests of each of both countries in diverse areas.
Likewise, the two officials "talked about the situation of forensic actions for the identification of Argentine combatants fallen who are buried in the Darwin cemetery".

Later Sir McDonald addressed the Argentine Foreign Service Institute with a conference on UK's British policy in the current international context, which was followed by a questions and answers period from the audience.
Sir Simon McDonald was appointed last 29 July as the new Permanent Under Secretary and Head of the Diplomatic Service at the Foreign and Commonwealth Office and is scheduled to take up the role in September. He will replace Sir Simon Fraser who is stepping down from the post. Sir Simon McDonald last post was British Ambassador to the Federal Republic of Germany, was chosen following a civil service–wide competition. The appointment was made by Foreign Secretary Boris Johnson.