Miss Bumbum displays her attributes in Olympics' body paintings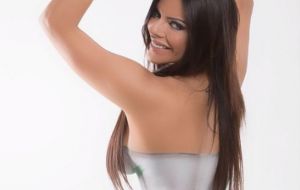 The Rio Olympics have their ""sex muse" promoted by Playboy magazine with a display of pictures of Brazilian model Suzy Cortez, in body painting, who currently holds the Miss Bumbum crown (sexiest derriere).
"Practice your favorite sport with her" is the main heading of the front page of the Playboy August edition, coinciding with the Olympic Games scheduled to take place in Rio do Janeiro between 5 and 21 August.
Miss Cortez, 25, holds the crown of the best 2015 rear of Brazil, (a national all age passion) which she will have to handle to her successor when elected next November.
The Susy body painted edition is planned to reach the kiosks and stalls on 5 August, the day scheduled for the opening ceremony of the Olympic Games, at the Maracana stadium, the first time they are organized in South America.
This is not the first time that Miss Bumbum makes a daring display of her attributes with her painted body: a similar display of pictures has been done referred to soccer, another of her great passion (as a good Brazilian), although admitting her idols are Uruguay's Luis Suárez and Argentina's Lionel Messi.