Ushuaia plans to expand main port pier 251 meters and improve facilities
Thursday, July 28th 2016 - 11:36 UTC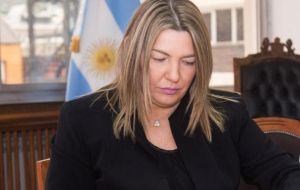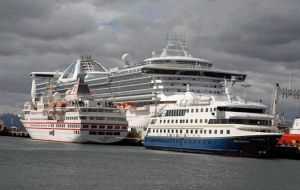 Ushuaia, the world's most extreme south city and the gateway for Antarctica cruise tours is planning to upgrade its port facilities including the expansion of the main pier by 251 meters increasing the docking capacity for tourism vessels during the summer season.
The project was announced this week by the governor of Argentine Tierra del Fuego, Rosana Bertone who anticipated the new facilities should be ready in 24 months demanding an overall investment of some 30 million dollars.
"We have presented the whole project to the federal government which now has three months to open the bidding process", said governor Bertone at the presentation in Ushuaia government house. She added that the upgrading means improved water and electricity services, fire combat equipment and complying with international ports security protocols.
"Some 7.500 square meters of new port facilities will be available for cruise vessels, which mean they will not have to anchor out in the bay, and overall will mean a fantastic improvement of services and increase of Ushuaia competitiveness as an international port and in the cruise industry", pointed out governor Bertone.
The official thanked the Ports Authority and other Tierra del Fuego government offices for their contribution to the project, which should generate 120 new jobs at least during the construction phase, in a clear demonstration of "their commitment to the advance of the province's capabilities".
Finally the heads of the Public Works and Services, and Ports Authority admitted work methodology had to reviewed several times to comply with the federal government costs' guidelines.
"The federal government is planning to bid out the whole project in three months time", revealed the head of Ports Authority Nestor Lagrana adding that the work is planned in three phases, in such a way it does not interrupt normal activity of the port.