Mercosur: Brazil and Paraguay's rejection of Venezuela is "a desperate attitude"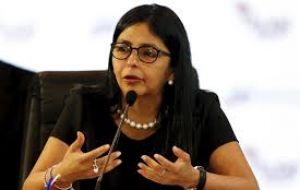 Brazil and Paraguay's rejection to Venezuela holding the Mercosur rotating chair sounds much like a "desperate" attitude, but nevertheless it is unpostponable, said Venezuela foreign minister Delcy Rodríguez: "it is impossible that the compliance of the (Mercosur) treaty can't be respected".
In effect Brazil and Paraguay object to Uruguay handing the rotating chair to Venezuela, arguing the fifth member is yet not a 'full member' since it must comply with the conditions agreed in 2012, basically adapting to Mercosur set of rules and regulations and which remain pending.
The dispute forced Uruguay to cancel an extraordinary meeting scheduled for Saturday, 30 July when the government of president Tabare Vazquez will officially end its six-month-mandate as established by Mercosur rules.
However Venezuela insists that the presidency must be passed on since Mercosur statutes establish only two conditions for such a situation: that the country currently holding the chair, in this case Uruguay, concludes its mandate, and that succession is done following the alphabetical order.
Thus "it must be transferred with no delays, no excuses to Venezuela" underlines minister Rodriguez.
Claiming that the issue has been blown up out of all proportion by the media with a clear "political and ideological" interest, Rodriguez appealed to "unity" and the mechanism, for which the transfer must take place "automatically".
However Paraguay argued that because of lack of consensus "there is no transfer of the Mercosur presidency" to Venezuela and the post remains "vacant" following a letter sent by Uruguay to fellow members confirming the end of its mandate this Saturday.
"I must be very clear that there is no transfer of the presidency to whom should be taking that responsibility, which is Venezuela", said foreign minister Eladio Loizaga.
Paraguay like Brazil argues Venezuela has not complied with all requirements to become full member as was agreed in 2012 when the official incorporation. But Paraguay also claims Venezuela is no democracy since it holds political prisoners, wants to close the Legislative branch, censors the media and violates human rights.