Temer hails beef agreement with the US; expects sales to reach US$ 1b next year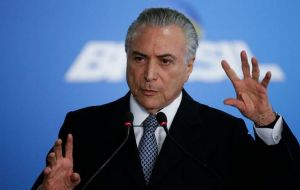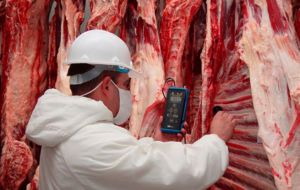 Brazil's acting president, Michel Temer, on Monday hailed the opening of the U.S. market to Brazilian beef, saying that it will help create new jobs and will expand trade for Latin America's largest economy.
The agreement opening the doors of the U.S. market to fresh and frozen meat produced in Brazil was reached last week in Washington after 17 years of negotiations between the two countries.
Temer said that, besides generating more foreign currency income, the export of Brazilian meat to the United States "will have international repercussions ... (and) will help conquer other (markets)."
Nevertheless, he specifically emphasized that it will help create new jobs in Brazil at a time when some 11 million people are unemployed in Brazil.
"This agreement will help growth and to create one of the main social rights, which is the right to work, since there is nothing more undignified for a person than unemployment," said Temer at the ceremony announcing the pact, which was also attended by U.S. Ambassador to Brazil Liliana Ayalda.
Brazil is one of the world's largest exporters of beef and last year it earned some US$6 billion from such sales.
The United States, one of the planet's largest markets, had only bought processed Brazilian beef and had prohibited the import of fresh or frozen meats due to health concerns, but these concerns were overcome in the pact signed last week.
According to Brazilian government calculations, exports of fresh and frozen meat to the United States will begin within two o three months, and during the coming year such sales are forecast to generate additional income of some US$1 billion.